KEY STATISTICS FROM MEDIA Salles
Digital and 3D screens in Europe: the new statistics as at 1st January 2017
There are 38,000 digital screens in Europe
The number of European countries where MEDIA Salles reports the trend in cinema-going and the evolution of cinema infrastructures has risen to 37. Amongst the countries already present in the European Cinema Yearbook (which offers data covering the 1989-2017 period), Belarus has also been added - a nation of 9.5 million inhabitants served by around 140 screens, 97% of which are already digitized. This new addition allows an even better view of Eastern Europe's cinema markets.
And so, the number of European screens fitted with digital technology numbered almost 38,000 at the start of 2017, revealing a 3.5% increase. Nearly 1,300 digital projectors were installed during 2016, with a monthly average of a little over 100 units. The great majority of European countries today boast a 100% rate of digital penetration or very nearly. Nonetheless, exceptions are to be found, above all in Central-Eastern Europe. There are several reasons for the phenomenon: it is worth remembering that by far the lowest rate of digitization compared to the average for Europe - to be found in the Czech Republic - is linked to the widespread presence of theatres that play a socio-cultural, rather than commercial role. Since they do not have the sources available for making a technological transition, these cinemas offer screenings that make use of electronic projectors and supports such as DVDs.
Amongst those countries that are still a long way from completing the digital shift, during 2016 some recorded a growth rate superior to the average for the Continent: this is the case of Estonia (+11%), for example, but also of Serbia. In the space of twelve months, this country, where digitization began relatively late, rose from 47 to 78 digital screens, with a record increase of 66%.
The penetration rate of 3D screens seems by now to have settled at 51%, with no variations compared to January 2016.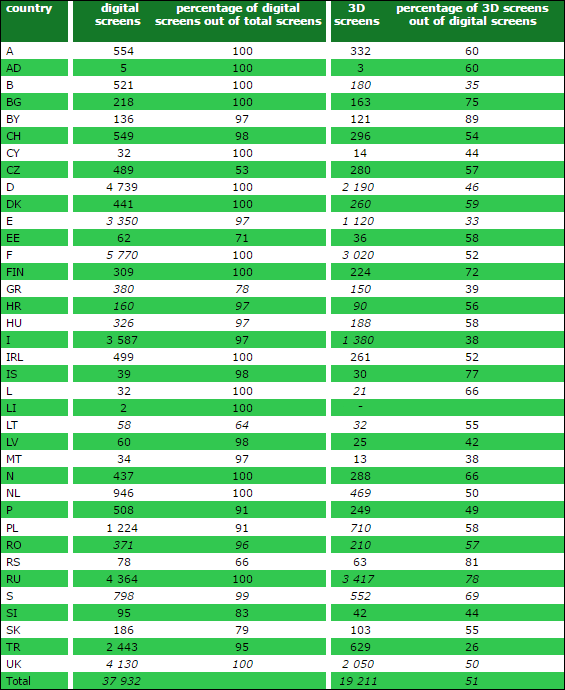 © copyright MEDIA Salles
NEWS: for learning, sharing, networking
Cinema(s) and Robots: a story with a long past, projected towards the future
What has an exhibition entitled "Hello, Robot" got to do with the cinema or with cinemas? A great deal, at least judging from the choices made by the curators of the initiative promoted by the Vitra Museum of Weil am Rhein, open until 14 May.
Perhaps many of us would be unable to define what a robot is but we are certainly capable of recognizing one when we see it. And we probably learned to do so from fiction rather than from reality. Books, plays and films introduced us to automats even before they became part of daily life: the very name "robot" appeared for the first time in the play "R.U.R." by the Czech writer Karl Čapek. Thanks to films, not only do we all have a model of a "robot" in mind, but we have also had many occasions for reflecting on the relationship between humans and automats. Where is the border between the two realities and what can be considered "le propre de l'homme" from which the robot is excluded? Intelligence, feelings, inner life, affections? Rather than dealing with technological aspects, the Vitra's exhibition invites visitors to raise this type of question and in doing so frequently turns to audiovisuals and to the cinema. It is not by chance that in the "Pink Room", the exhibition space painted in the colour of emotional relationships and the affections, "Robot & Frank" appears - Jake Schreier's prize-winning film at the 2012 Sundance Festival, which explores the almost symbiotic relationship that develops between an elderly jewel thief suffering from dementia and his robot carer. Spike Jonze's film "Her" follows along the same lines: a sophisticated operating system manages to fill the void of affections suffered by Theodore at the end of a love affair.
So much for the link between the world of automats and the cinema. Yet one of the next frontiers of robotics is precisely the movie theatre. The Vitra offers an example of this by presenting "Frebble", a system allowing tactile sensations to be transmitted at a distance. Designed by Holland Haptics as a computer accessory to add a sense of touch to online communication, it is one of the first applications of a technological approach that aims to change the world of entertainment and in particular that of the cinema, by adding tactile sensations to the classic ones of sight and hearing.
Not to speak of the glasses that look as though they're designed to offer protection from the sun but in actual fact make it possible to watch a film without the help of a screen, whether big or small.
The subtitle of "Hello, Robot" is in the form of a question: "Have you ever met a robot?".
There may be many possible answers to this but one seems to be particularly close at hand: "Sure have! At the cinema!"
Cross Video Days Call for Digital Projects and AR/VR Studios now open!
Supported by Creative Europe program since 2013, Cross Video Days (2-4 October 2017) is a unique marketplace where innovative digital content and studios can be pitched, scouted and financed. This year, Cross Video Days will offer two tracks: the first one to finance digital projects in development phase, a second one to finance the activity of game and cinematic AR/VR Studios.
Apply To VR/AR Investment booster and meet international Investors
As a growing number of players, funds or equity investors are now supporting not only projects, but the activity of the innovative production companies itself, the Cross Video Days introduce this year a new financing track open to tech-enable content companies whose activity includes the production of cinematic experiences or games using AR/VR/MR/360° technologies.
12 selected European companies will get an unique chance to pitch their investment opportunity to a panel of 15 high-level international investors as well as reputed experts of the AR/VR/MR/360° industry.

Apply to Content Market and meet digital Financiers
In a context when audiovisual digital industry is still experimenting with business models, and to offer maximum chances to the projects to be released, Cross Video Days Content Market strived to increase projects financing opportunities.
47% of the projects selected at the Cross Video Days have been produced and distributed in a 2-years time.
This call is open to any digital-oriented project currently on a fundraising stage and meeting the 4 following categories, whatever their genre (documentary, fiction, animation...)
Interactive content (Serious games, Webdoc, apps ...)
Web linear content (Webseries, web fictions ...)
Multiplatform universe (Crossmedia or transmedia...)
Game & Cinematic AR/VR/360° (AR/VR/MR/360° ...)
The selected project holders will take advantage of 30 minutes one-to-one meetings with a wide range of players including traditional broadcasters, Funds for interactive audiovisual content, Online broadcasters & VOD platforms, web publishers, Multi-Channel Networks, brands or VCs...
Financiers which attended latest editions: Tribeca, POV Digital, HTC Vive, Maker studios, Youtube, Sony Pictures, Red Bull Media House, Rightster, VICE, Channel 4, BBC, ZDF, BR, ARD, Arte, France Televisions, Canal+, RTBF, RTL, TF1, M6, RTS, ARD, YLE, DR, RTVE, RAI Educational.
Submission and participation at Cross Video Days is free of charge. Applications are open till June 13th, 2017
For further information about Cross Video Days call for projects, please check the following link :
Basilicata: a plan for cinemas beyond digitization
There is no longer any doubt - thanks in particular to Matera - Basilicata has become a highly coveted set for producers and directors all over the world. On the cinema exhibition front, as well, Basilicata is committed to attaining international standards of quality. The first step was the agreement with "Sensi contemporanei" / "Contemporary Senses"*, which made it possible to draw on public financing for digitizing movie theatres. Now, instead, an agreement is imminent between the regional authorities of Lucania, the Region's municipalities, the Ministry of Cultural Heritage and Activities and Tourism and the Agency for Territorial Cohesion, which aims to boost and restructure movie theatres and multi-functional cultural centres to promote the development of the territory and vehicle cultural offer through the audiovisual sector. The agreement will be operational until 31 December 2018. * The agency for the promotion and spread of contemporary art and the valorization of architectural and urban contexts in the Regions of Southern Italy.
ALL DIFFERENT ALL DIGITAL
This column hosts portraits of cinemas in Europe and the rest of the world which are quite different from one another but have in common the fact that they have all adopted digital projection.

| | | | | |
| --- | --- | --- | --- | --- |
| Country | | | | |
| Italy | Il Piccolo | Matera | 1 | 1 |
"Il Piccolo" Cinema of Matera
"Mexico" is a new documentary dedicated to the single-screen movie theatre of the same name in Milan, unanimously recognized as a
true stronghold of independent cinema. It is no coincidence that the premiére of this "manifesto" film was presented during the MICI, Meeting Internazionale del Cinema Indipendente, (International Meeting of Independent Cinema), in its 6th edition this year. And it is no coincidence that it was Il Piccolo to host the screening, a cinema that came into being in 2006 - right at the end of the analogical era - as a place devoted to quality cinemagoing in the old town centre of Matera, only a few steps away from Piazza Vittorio Veneto.
"Piccolo" because there is only one screen and it seats only 135, but unique thanks to its role in a town that has become famous throughout the world, from 1950 up to the present, as the set for films such as Pasolini's "Vangelo secondo Matteo" and Mel Gibson's "The Passion of the Christ".
Unique in terms of its architecture as well, since it was created by exploiting an old barn in an aristocratic, nineteenth-century building. Not far from the famous Rioni Sassi - a UN World Heritage site - the building reflects the original architecture and materials used. It is what is known as a lamione, a rectangular space with an arched ceiling, made of calcarenite in the style typical of Matera. A place full of charm, keenly desired by the Padula brothers, two cinema exhibitors with thirty years of experience behind them, who decided to present the town with a landmark for quality and arthouse cinema and, at the same time, a cultural centre that could be used not only for viewing films but also for meetings and debates on the seventh art.
In its first ten years, Il Piccolo offered its audiences numerous cinematographic novelties, arthouse films, débuts by emerging artists and theme weeks, using analogical projection techniques. Since October 2016, thanks to support from the Regional Authorities of Basilicata, Il Piccolo has been equipped with digital technology.
"With these changes," says Antonio Padula, one of the two founders of Il Piccolo, "we mean to demonstrate that our cinema's intimate, family atmosphere, providing a real meeting place, in a context that is quite different to the "non-places" of the modern, multi-screen complexes, can go hand in hand with technological innovation. We therefore feel quite ready to make our contribution to the initiatives that will distinguish Matera in the near future, as the European Capital of Culture in 2019."