Alice Tentori - DGT online informer No. 185
Sales Specialist, Digima
SAAV Co-Founder
My first memory of the cinema. Imagine: an 8-year-old girl at the Milan Odeon, sitting on top of the folding seat. Leaning forward with eyes wide open in front of that big screen, which really was big for her. Perhaps it was all that light that made me fall in love with the cinema, even though, for the most part it was thanks to my parents, both passionately keen on the art: my father, a cinematographer, was always filming with his videocamera and I had fun being his favourite subject; my mother took me to the local cinema every week with her friends, even when the films were for "grown-ups".
When the time came to choose my studies, I didn't have much doubt about it: Cultural Heritage Studies specialising in History of the Cinema, with a thesis in Animated Films, followed by the experience as Cast Member at Disneyland Resort, Paris.
Cinema was what I wanted to do. In 2004 I started to work in a multiplex with 14 screens just outside Milan: films still arrived on film and to get into the projection room you needed a projectionist's licence. I still remember that at the examination held at the Fire Station I was the only girl out of about thirty participants but no-one could have stopped me. The years spent in the exhibition sector have taught me a lot: not only the work at the box-office, at the bar and in organisation and communications, but also and perhaps mainly customer relations, teamwork, management of the unforeseen and of unexpectedly high attendance.
A real university in the field.
Then came digital: between 2009 and 2010, propelled by 3D, Italy's cinemas converted to the new technology. In those years Digima was one of the new players just entering the cinema market: the need to make the potential of the new technology known to exhibitors, the difficulty of supplying the machinery in years when digitisation was spreading like wildfire, the delivery dates parallel to release dates, were the most demanding challenges. We had a small team but one that was united and competent, as well as passionate both about cinema and about technology: I think this was our strong point, particularly acknowledged by the Space Cinema circuit, which entrusted us with the whole of its digital roll-out and subsequent assistance and maintenance.
Then, in 2012, came what I define "the great summons": RealD, a leading American company in 3D cinema, chooses me as Country Manager for Italy. Since then the vision has broadened not only to digital 3D but also from Italy to Europe: a demanding adventure but a stimulating one, full of ups and downs, accompanied by an entertaining 3D such as that of animation (which, however, encountered resistance from some audience sectors due to the glasses), a highly successful 3D as in "Gravity" or "Hugo Cabret" and a 3D which was, on the other hand, disappointing, and which at times had a negative influence on the public's perception of this technology.
Like all technological systems used in the cinema, 3D, too, is just a tool: "how to use it" is the most important aspect. Some directors are now in full harmony with the technology and have used it as a means for facilitating narration; in the same way, some exhibitors have realised the importance of a correct choice of technology and its proper installation and maintenance so as not to disappoint their audiences.
My team at RealD consisted mainly of women: together we developed sales and marketing strategies, organised events, filed contracts and agreed on payment. I could not have asked for better company on this journey of "Europeanisation" and a lot of the merit goes to Karina Neill, my London-based Cinema Director.
One last technological aspect that I have been able to explore over the past few years, this time in the field of postproduction, is that of accessibility. Subtitles for the hearing-impaired and audio descriptions for the visually impaired are generally added after the content has been elaborated and are most common on supports such as blu-ray and streaming platforms. Here the language and technology come together to allow the largest possible number of people to share the same experience of a film or TV series. So that culture really is for everyone, thanks also to the reasoned and positive use of technological applications.
Anna Machukh - DGT online informer No. 181
Executive Director of Odesa International Film Festival,
Executive Director of the Ukrainian Film Academy,
co-founder of the online resource DzygaMDB
Since the beginning of the cinema, women have been at the forefront, which means making a no less significant contribution to culture than men. However, in the 1920s, when the industry began to develop actively, women were gradually moved from the director's chairs into the assembly shops. And over these hundred years, the world cinema industry has changed more than once. In Ukraine, the situation is similar to many other countries. The industry is still dominated by men, but the situation is gradually changing. A woman in the cinema was perceived as something unique for a long time. Especially if this woman was a camerawoman. Today it is not such a clamorous event, as before. Many women's names have appeared as directors, including Iryna Tsilyk, Marysia Nikitiuk, Tonia Noyabrova, Maryna Stepanska, Kateryna Gornostai, Maryna Vroda and many others. In recent years, they have filmed many high-quality and original film stories that have competed for awards at class A international film festivals.
Various organizations and activities are helping to improve the situation towards the balance of gender equality. They aim to give women the faith in themselves that they often lack. In particular, such events are held by the Ukrainian Film Academy. One of the main driving forces behind its work is aimed to give women the possibility of succeeding in cinema and to destroy the existing stereotypes. Currently, the Film Academy has about 40% of women as its members, and the number continues to grow annually. In order to promote the idea of a woman in cinema, we conduct master classes with the involvement of producers, directors, actresses, casting directors and other industry professionals.
And digital technology, like the recent acceleration in the development of social media, has come to our aid, so that we can offer webinars, allowing us to spread our ideas throughout the world.
Odesa International Film Festival also does not avoid the gender issue, either. Discussions on this topic have been held within the framework of the Festival for several years. Two years ago, OIFF joined the HeForShe movement, and this year became a partner of the Women in Arts 2021 award ceremony, which celebrates prominent women in the cultural industry.
Such manifestations on the part of film organizations are truly helping to improve the situation at all levels of the industry. Now we are experiencing a certain revolution in society's attitude towards women and their rights. This question is repeatedly raised at different levels: at film festivals, at the film academy, in unions, at award ceremonies and, in fact, in film narratives. The world has finally realized that women are no less talented than men. Our challenge is to give them the opportunity to bring their talent to life.
Elisa Flaminia Inno - DGT online informer No. 180
author, director and producer of documentaries
Return to the Future
I was born into digital cinema. During the years of my training I was totally fascinated by the study of documentaries: how the digital revolution of the 'Nineties had allowed new production practices to come about and a new way of conceiving languages.
Reality cinema is the star of this revolution, released from the ballast of the production process necessary for film reels and put into the hands of the authors, who can manage their creation independently.
This new panorama in constant evolution gave me the possibility as a director to experiment with new languages and to adapt the production mechanism to this nouvelle vague. It made it possible to produce low-cost independent films, allowing a freedom of language that could handle circulation both in Italy and internationally. (An example is "Pagani", that I realized in 2016, produced by Parallelo41).

The characteristics of this new scenario are the speed with which the tools and ways of filmmaking evolve and the opportunity to cast off the editorial burden of the mainstream. In a short time, the web became the new territory to be conquered, with a hybrid product somewhere between narration and impression, capable of bringing countries together in the language of the platform and a new sort of film - in serial form - opening up to a narration that creates loyalty in viewers and promises a long life for stories on the market. Thanks to the proliferation of audiovisual sites - screens - it has been possible to contemplate ramification of distribution: for the theatres, TV, the web, OTT services, museums, teaching and other forms of output possible for a film today.

This process has given the figure of the producer new life blood and made it possible for many of us to access production ("Donne di Terra", now in post-production by 1506film).
In times of pandemic, given the impossibility of continuing work in our sector and the exceptional aspect of producing an all-women film, together with fifteen colleagues we came up with a new fully digitalised production: a documentary arising out of the pandemic itself, to which each of us, from our own personal quarantines, contributed to, experimenting with a new way of filmmaking: a widespread online call to narrate women's lockdown, fuelled by the power of the internet and by the desire to acknowledge a female identity represented there, the elaboration of a long-distance direction technique guiding our characters to filming themselves, a system of archiving and production management planned for online sharing. A new frontier in digital cinema: ninety minutes built up thanks to the eight thousand videos received from women all over the world and made entirely online by sixteen authors who have never met up to now ("Tutte a casa", 2021).

It is in this world of extreme isolation, where you can't meet even to make a film, where you are no longer delighted and amazed by a visit to the cinema but reduced to watching content on your smartphone, that the movie theatre acquires new value: the value of meeting people. Meetings that encourage the sharing of a marvel that we can experience on a tablet in the doctor's waiting-room, but which today is perhaps no longer sufficient. My hope is that the pandemic will act as promoter for the rebirth of the movie theatre as a meeting place, for a return to the future that unites spectators, leading them back to an important sense of sharing and community.
Mira Staleva - DGT online informer No. 179
Managing Director - Sofia International Film Festival, Bulgaria
The Challenge
2021 opens under very challenging circumstances but with new perspectives on the horizon, however difficult it is to imagine them with movie theatres and film festivals in lockdown. Streaming is in a comfortable position and going well, but going to a cinema and watching films from home are totally different experiences.
Crisis always brings possibilities for change and reflection. I am one of those people that still considers the theatre as a Temple and the idea of replacing it with home cinema is not really tempting. At the same time we have to come to terms with the fact that technology has been on our doorstep for a long time and we had better use it so that it can be of help and complementary rather than seeing it as an enemy.
I think audiences will be hungry for human experiences that can be felt and shared after the end of the pandemic restrictions and in this regard cinemas must reconnect with their potential audiences in making their message clearer than ever: by creating a variety of events and building a context for people to meet in. The increasing popularity of streaming can only help this process as it can bring many films to the attention of viewers and in this way develop and differentiate sensitivity for the language of cinema and make the debates on cinema lively and vivid. Everything will depend on creativity when offering the real cinema experience. Creativity and partners!
Movie theatres in Bulgaria were open almost the whole month of March and continue to be at the moment. Yes, we were lucky to have the Sofia IFF in real cinemas with a real awards ceremony. Without foreign guests, but at least the show went on. People seemed really excited to be back in the cinemas and besides that, as a festival, we were able to offer the audiences in the whole country access to films. Yes, it is difficult - very difficult - but at the end of the day the problems resulting from the long lockdown can be turned into an opportunity for stronger connections with our audiences.
Géke Roelink - DGT online informer No. 175
CEO Filmhuis Den Haag
Cinemas and their role bridging the gaps between groups and ideas.
As European cities grow larger and more diverse, density of cultures and opinions increases. The population is segregated along more ideological lines, often more diffuse and sometimes even explosive.

Conflicts can inspire exciting films, but we would like to keep our environment harmonious. Remember West Side Story? However beautifully depicted, both visually and musically, no one wants to be in the position of the infatuated Puerto Rican Maria or the New Yorker Tony, personifications of antagonistic communities. Society thrives on mutual understanding and respect, so that love can prevail and people can be happy. No one truly enjoys conflict.

People have deliberated on the ideal of a harmonious society for thousands of years.
According to philosopher Hannah Arendt, an 'expanded viewpoint' is indispensable to this goal. You have to make an effort to understand and respect the ideas and opinions of others, regardless of your point of view. Sharing resources is easier when people empathise. This remains difficult, even more so as many never interact with an asylum seeker, a lesbian, or a Kurd.

Last year I spoke to a man aged sixty or so. He had seen the Oscar-winning film Moonlight, and for the first time in his life he had been able to empathise with the love that two men feel for each other. The film had opened his heart.

It is common knowledge that Dutch citizens of Turkish and Kurdish descent don't always get along very well. Furthermore, within the Turkish community there are conflicting views on the government in Ankara. Still, they all grew up watching the same films and despite the political differences, they share a culture. It is this shared culture that we try to highlight in our Turkish-Kurdish film festival. Nevertheless, sensitivities remain and we asked ourselves questions like: Should we invite an acclaimed director, who also happens to fervently support Erdogan?

We spent much time weighing the tensions between left and right, progressive and conservative, religious and secular while choosing the films. In the end the festival was an enormous success. Turks and Kurds of all persuasions sat side by side in the cinemas. There were some fierce debates in the fringe programmes, but importantly the mutual understanding grew.

This illustrates how cinema can help empathy grow. A better world tomorrow starts with goodwill and respect today. The benefit for society of a festival like this is priceless as it helps form connections between distinct individuals and cultures, the foundation for living and working together at local, national and global levels.

I can't wait for the cinemas to open again.
Antonella Di Nocera - DGT online informer No. 174
Founder of Parallelo 41 Produzioni, Naples, Italy
Cinema, Digital and Me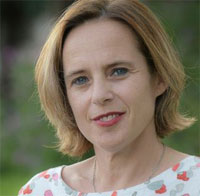 The moment that sparked off my love for the cinema: a bolt of lightning between me and the screen, watching Der Himmel über Berlin / The Sky Over Berlin / Wings of Desire . A lot of time has gone by since then, always spent living with the cinema.
Going to the cinema, studying cinema, exhibiting cinema, teaching cinema, making cinema: since that watershed at age 16 in the gallery of a big cinema in Trieste, right up to the now day-by-day obstination of pursuing that link between education, cinema and culture.
To answer the question of what has been the most important recent change to influence transformations in the sector and also in my professional and private life, it has undoubtedly been the digital revolution, which has opened up extraordinary new paths and opportunities.
Ways of conceiving and making films with new and powerful freedom: the freedom to be able to produce starting out from desires and urgent needs, without posing the problem of the huge machinery of the cinema as we all know it.
And so the narration is central. And for me, in particular, the cinema of reality. An encounter that turned my first lightning-struck encounter from a flame into a fire.
Digital cinema action is limitless, without borders: there is nothing more immediate for acting locally and thinking globally.
Bring born and growing up in the suburbs, I'm used to a transversal gaze and the centre isn't the hub of vision, as usually happens. Thanks to the less weighty approach it allows in the production of documentaries, in overall terms and in terms of technology going digital has given a voice to young people's experience, making new aesthetics and approaches possible.
If I look at the films I've produced over the past few years, I can confirm significantly that digital has also given a voice to real people and stories that would never have been told.
Production, which often finds forms of public financing and with effort manages to reach its conclusion, is not met with distribution and commercialization of the products, which have difficulty finding a market. It is therefore to be hoped, as these times of pandemic have demonstrated, that a truly democratic revolution - unfortunately a long way off - will take place in the channels of digital distribution, so that it is no longer subject to the dictates and rules of the existing mainstream approach.
Monica Raud - DGT online informer No. 173
Marketing & Project Manager, Kino ARTIS Tallinn, Estonia

Cinema Artis in the heart of Tallinn is a small 2-screen cinema that has a focus on European films, but also screens a selected choice of Hollywood productions and movies from around the world. When COVID-19 hit the country, we were closed from March 13 till May 31. Artis was the first cinema in Tallinn to open its doors again on June 1st. Because of that and because the reopening of cinemas was newsworthy, Artis got quite a lot of much-needed media coverage.
Because of the lockdown many public and private events in our cinema were cancelled. The saddest part: we had bought the rights of two magnificent films that we planned to screen during March and April. One of them, "Honeyland", was on national TV in May, so when we finally screened it in September, very few people came to see it. The other film ("The Portrait of a Lady On Fire") with 10 screenings in October was a pretty big hit, thankfully.
When the cinema was closed, we didn't really encourage our audience to go online and watch films via different channels. We didn't encourage the habit of watching films without leaving home – this was something that happened anyway. So we tried to keep up the hope that we could soon open the doors again and enjoy the art of film on the big screens. Regular Facebook posts and occasional news on our webpage www.kino.ee were the main ways to keep in touch with the audience. There were humour and cool links to share, there was news about coming films and thematic film recommendations, little polls, news about the situation and much more.
When we opened on June 1st, we had to keep 2 m between the seats, so only a maximum of 50 seats out of 181 and 21 seats out of 72 were on sale. That changed on June 24, when we could sell up to 50% of the seats. After August 22 we were allowed to sell 100% of the seats. But we were open 7 days a week and did 12 screenings a day as always.
At first the programme consisted of movies that started just before the lockdown or should have started during that period. Gradually new films arrived in the cinema. But as the situation was uncertain, there weren't really any big hits and people were not very keen to come back into cinemas and of course they wanted to spend a lot of time outside as it was summer. So compared to 2019, we sold roughly 65% fewer tickets in June, 55% fewer in August and 25% fewer in September. But as the proportion of visitors has changed and there are fewer seniors than normal, this turnover in October was very close to October 2019.
Besides the fact that people still love cinema and over time were increasingly ready to return to cinemas, I believe there are 3 things that have helped cinema Artis.
Diverse and strong programming

Frequent special programmes, special screenings and festivals that began in July and culminated in October

Audience loyalty
We really wanted to bring our audience back to their favorite cinema, so despite the uncertain situation we continued with our weekly and monthly special screenings as promptly as we could. Twice a week senior screenings continued as soon as the cinema reopened, Ladies Choice movie nights started again in August and children's mornings in September.
November is the month of the Black Nights Films Festival and starting from November 28 we are allowed to sell only 50% of the seats again. There is not the slightest indication of what December will bring.
Éva Demeter - DGT online informer No. 172
Festival Director of Alexandre Trauner ART/Film Festival
International Relations Coordinator of TISZApART Cinema, Szolnok - Hungary

I was asked to write an article on how we managed to keep our cinema alive during the quarantine, offering diversity of content and keeping our audience active.

Our art cinema, "TISZApART Mozi", located in Szolnok - an hour from the capital, Budapest - is usually open 365 days a year, but due to the corona pandemic it had to close for the first time in its history for 99 days from 15 March to June 18. During the closure we lost most of the products in our café (has gone bad), however we were prepared to welcome the public again and we were the first art cinema in the country to reopen on 19 June 2020.
We did our best to keep in touch with our audience during the period of quarantine. We had many of our programs interrupted by the virus, so these events were forced to go online. First of all, we wanted to make sure that the programs did continue online, then we brainstormed how to make the offer even more appealing to our audience.
We organized two movie quizzes online with a quiz master and streamed the quizzes on Facebook. The participants received the list of films in advance to get prepared for the program and could win all sorts of prizes (DVDs, books, T-Shirts etc) offered by the distributors.
We have also joined the Mubi initiative to watch a huge variety of films online from their database and we were able to hold one of our film club series online. The film link was provided by the distributor and sent out to our film club members to watch at the regular meeting time for our film club (on Tuesday at 6 pm). After the screening the audience could talk to a well-known film critic on Facebook about the film. Our most successful initiative was the "Virus Video" campaign, which we advertised on our webpage and via the social media. We asked the audience to make short videos about what they miss most about their cinema going experience during quarantine. We kept posting the videos on our Youtube channel and at the end of the closure we announced the winner - the maker of the most frequently viewed video - who got a prize for his/her work. Our Creative Filmclub was continued online, meaning that the club leader fixed an online project for the students and kept in touch with them via email. The task was to make a video at home and the videos were posted on our Youtube channel and evaluated by the film club leader so not only did the students get feedback for their task, but their work was also published.
As of 1 June, we have started a EU funded project with a Slovenian, Croatian and Bulgarian art cinema called Resonance Cinema. Cultural Hub for curious minds and even if a new lockdown has recently been introduced, we hope that we shall soon be able to continue our work in the cinema with live events.
PETRA TERZI - DGT online informer No. 170
CEO of Cultural International Festivals
Founder of Inspire-tv®
For the last 20 years, as event organizer, I have been presenting the "Best of the Best" from the arts world in Greece and Cyprus, with live performances spanning from New York Acrobats to the Flamenco Ballet of Andalusia. At the same time, both as filmmaker and film lover, I have been striving to create opportunities for meetings between audiences and directors, for example at the Cyprus Int'l Film Festival and the Bridges Film Festivals in Corinth and Nafplio. COVID 19 has unexpectedly changed our lives and the impossibility of being physically present at performances has made it all the more evident how essential culture, the arts, entertainment and the cinema are, for all of our lives.
<
This is therefore proving to be the right time for the launch of the Inspire TV® Platform - the world's first, free and most extensive digital resource library featuring artists and videos from diverse and powerful contemporary genres, created to bolster the portfolio of independent artists worldwide.

This is a project we have been passionate about and working on for several years. The Inspire-TV® Platform launch had already been planned for this summer but the need for it has become ever more critical during this pandemic. It is a need that is particularly experienced in the field of education, which we, at Cultural International Festivals, consider very important. We are, in fact, trying to promote gender equality, human rights, diversity and the awareness of climate change.
The platform was conceived to host the online activities of the Cyprus International Film Festival and Bridges International Film Festivals and to provide young talents with a significant opportunity for visibility. People are hungry for credible, high-quality virtual content now more than ever. We are lucky enough to be able to give this unique, free digital resource.

In addition to in-festival and out-of-festival partnerships, we have a direct-to-consumer strategy. For example, cultural venues and cinemas across the globe are beginning to reopen, and will be able to find inspirational content on our new platform.
To conclude, our entire goal is to make film-making and arts relevant to people. Now, with the pandemic, virtual content is a crucial resource for reaching this objective.
As our world is in the midst of a very unusual and fluid back-to-cinema season, featuring both remote and live viewing, the Inspire-TV ® Platform can be an engaging staple for viewers and artists internationally.
Weerada Sucharitkul - DGT online informer No. 168
CEO & Co-Founder
FilmDoo and FilmDoo.Academy
Someone once asked me, what does women's empowerment mean to you? I thought long and hard, then said "Know your worth and everything good in life will happen to you."

Because that's the story of my life and how I came to be the CEO & Co-founder of FilmDoo , a global edutainment platform that is today helping people around the world to teach and learn languages through films using our game-based technology (www.filmdoo.academy). Growing up, they told me, "You're not pretty enough to work in film, you're not smart enough to work in tech, you're not driven enough to work in finance." Today, I run and manage an international team that operates across all three industries on a daily basis.

As a woman, especially an Asian woman by background, we are often expected to behave and talk in a certain way, to take on certain cultural and stereotyped roles, and to have different values and aspirations from men's. Sometimes - intentionally or otherwise - male colleagues, friends and other counterparts may even come to perceive kindness as a weakness. That is the most difficult lesson I have had to learn - to take back control of your own voice, to know your boundaries and what you will or won't accept as a value system in your life and how you run your business.

Ultimately, it takes strength and courage to believe in yourself. To do that, you need to draw on your passion as the source of motivation to keep going. For me, that passion is cinema. It is my love of cinema and the power of films that motivates me each day to look challenges and difficulties in the eye and to keep going, when they tell me that there is no path leading where I want to go.

Having grown up in 11 countries across 5 continents, cinema for me is the one true medium that has the power to connect people from around the world and to build bridges rather than walls. Through films, we learn about people from different cultures and backgrounds, we experience different languages and insights - and more importantly - it is through films that we come to appreciate that people different from us are actually not that different after all, and develop empathy and kindness for people from cultures and places we have not yet experienced.

This is the power of films, and this is what inspires me as a woman operating across both cinema and technology to rise against all the traditional prejudices and create an international platform that helps under-represented stories from around the world to get seen and heard. Knowing your worth will inspire you to attract people who will go on to help you build your vision, whether it is in cinema, in technology, or at the intersection of both.
Irene Musumeci - DGT online informer No. 160
Film Marketing Manager - Exhibition at Curzon
Am I a woman in digital cinema? I suppose so. I work for Curzon, a unique cinema company which comprises exhibition, distribution and VOD. We operate fourteen beautiful, fully digitised cinemas across the UK, although we still maintain a few 35mm projectors and often use them for events or special presentations. Curzon Artificial Eye is the hallowed distribution label responsible for bringing to these shores the works of François Truffaut, Andrei Tarkovsky, Agnès Varda, and Wong Kar-Wai amongst many other titans of cinema, and alongside contemporary talent like Joanna Hogg and Andrew Haigh. Our VOD platform Curzon Home Cinema pioneered and continues to champion day-and-date releases to great success, particularly when it comes to European films (45 Years, The Square and The Souvenir were recent milestones). At Curzon my role is in marketing, a sector which has been completely revolutionized by embracing digital technology - not just social media, but data analysis, email communications, developments in e-commerce - and the digital world is a huge part of my day-to-day work.

However, I don't identify as a 'digital native'; my beginnings were firmly rooted in the analogue world. I came to the UK from Italy as a student to train as a theatre director. I worked in live theatre for a few years before returning to my first love: cinema. I never had any ambition to be a filmmaker, I just loved watching films. My greatest talent was persuading people to go and see the films I was passionate about. That's marketing, I thought, and I started to forge a path into this career. Through experiences in distribution, sales and exhibition I had to learn much about what it means to be a woman in digital cinema.

Like many women who have written this column, for a long time I didn't have the impression that gender was much of a factor in the opportunities and challenges I have encountered in my career. This is probably a testament to the fairly high degree of fairness and meritocracy that exists in British professional contexts, as well as to the steely women who fought battles for us all in previous generations. But recently I became a mother of twins. Suddenly I was made very aware of the role that gender plays in career paths. Taking a year out of work to look after my babies was a wonderful experience, and I am fortunate to be operating in a social system that allows for a long maternity period. It is nonetheless hard to work in an industry that has very little flexibility in terms of working patterns, with dozens of new films being released every Friday of the year, while also managing a newly expanded family.

Being a woman in digital cinema for me has meant negotiating a number of contradictions and paradoxes: this industry is full of openings, but it can also be closed in on itself; it creates space for experimentation but it can be ruthless with failure; it welcomes diversity and youth but it demands experience and awareness of tradition. I feel that my formative years in a different art context and European education system were crucial in understanding that creative careers are rarely straightforward and never linear. Women are excellent navigators of long and winding roads, and experts in the art of adaptation. Every skill and every experience accumulated over time eventually turns out to be useful. The women I have encountered in this world have practiced the art of gathering pieces of knowledge and composed their beautiful mosaic. That in itself is an art - whether in the digital, analogue, or just the real world.
Silvia Cibien - DGT online informer No. 158
EUROVOD General Delegate
Although the world of the cinema has been placed in the limelight despite itself, due to certain strongly conservative and male-chauvinist dynamics in it, we must add that female entrepreneurship is now taking giant steps forward in the world of audiovisuals compared to a few decades ago. Many women are prominent in the cinema sector and in my 15 years' experience in the sector I have never felt excluded as a woman, apart from certain managers (men or women) who failed to move with the times, not only in their relationships with their fellow workers but also in managing the structures they represented, using an outdated style of management which therefore carried with it traces of social inequality. On entering the world of technology and digital, however, one becomes aware of the extent to which the sector is still male-dominated.
According to a study by the European Commission, "Women in the Digital Age", the number of women taking up education and pursuing careers in information and communication technologies (ICTs) has been decreasing, while vacancies in ICTs have been increasing. The study also found that if more women were to enter the digital jobs market, it could boost the EU's GDP by €16 billion each year.*
While taking part in the conference #Digital4Her held in Brussels on 19 June 2018, I realized that the problem of the lack of women in digital and technology sectors does not derive so much from the world of work but comes earlier - from education. As in many other sectors, girls and adolescents who would like to pursue technical studies are often hindered by prejudice from families or even from the schools themselves and the society of which they are the mirror. In this case women students with a family background where parents work in the sector have an advantage. Since 2017 I have been working on international development in the world of cinema and technology and on public policies for two Video on Demand platforms (lacinetek.com, universcine.com) as well as coordinating EUROVOD, the only association to combine and represent European VoD services with a strong editorial identity, a considerable offer of art-house cinema and an average of 77% of European films in its catalogue. Apart from the Board of Directors, in EUROVOD we are an all-women team, responsible for the everyday development and organization of the association, such as the European VoD Meetings, VoD Market Day and the new project regarding a professional online platform for the sector of digital distribution. The choice was not gender-based but a pure combination of human and professional competences. Whilst on the VoD platforms, there continues to be a majority of male workers, particularly where there is an in-house technology department, I also see more and more women entering the digital sector thanks to a new generation of professional figures and managers who devote closer attention not only to matters of justice and social equality, but who are also simply motivated to choose the best professional profiles, free from any prejudice.
Elly Nobel - DGT online informer No. 157
Programmer and coordinator
Filmhuis Wassenaar
The Netherlands
It is an honor being asked to write a column about my work as a programmer and coordinator at Filmhuis Wassenaar in The Netherlands. The Wassenaar library opened its doors in 2009, being the first to include an in-house cinema.
Our small-scale cinema has room for 69 moviegoers and is operated with the help of a large number of enthusiastic volunteers. Our volunteers help take care of ticket sales and the catering during the intermissions as well as operating the digital film equipment. We started with a 35mm film projector back in 2009, which clearly had its limitations. We switched to digital projection equipment in the second half of 2011, a move that has broadened our prospects significantly.
I have been responsible for our programming since 2017 and am supported by an enthusiastic team of four female volunteers. The type of films we feature varies: mainstream films, art-house, documentaries, operas and films for children. With approximately 16,500 visitors annually Filmhuis Wassenaar has become a well-known local institution.
Today's library is a multi-functional institute which covers reading, learning, art, culture and facilitates the public's engagement with their community. The combination of the Wassenaar Library and the Filmhuis Wassenaar is a powerful one, making it greater than the sum of its parts. It gives us the ability to promote both books and our films by, for example, organizing theme nights or programming the film adaptation of a book while simultaneously bringing the books to the attention of visitors.
We've noticed that our audience, which consists of mostly women, is on average more mature and often has an interest in both art and culture. They have an interest in lifelong development and appreciate having a cinema nearby. Aside from the documentaries and art-house films, giving food for thought and debate, we offer our visitors international exhibitions, opera as well as ballet performed by the best in the business! All of this made possible by going digital.
The personal touch, extra care and attention to our guests are made possible by the small scale of our cinema the Filmhuis Wassenaar, allowing our team to create an intimate warm experience. I believe that a feminine touch really contributes to this. We are able to listen to what our audience wants and offer an almost personalized experience which plays an important role in our success. Recently Filmhuis Wassenaar celebrated its 10th anniversary and I believe that we will be able to continue serving our community for years to come.
MLuz Delgado - DGT online informer No. 156
Manager Cines Van Dyck,
Salamanca, Spain
When I was asked to write about Digital Cinema for this column, as a woman, I realised that I had never had a perspective of gender because I have always worked in our own company with my husband, Juan Heras. However, since being asked, I haven't stopped reflecting on the role of women in our cinema, as almost 75% of the audience are women.
Why do we women have this passion to broaden our mind? Is it because we have inherited Eve's curiosity, after having eaten the apple from the tree of knowledge? Is it because we are always asking questions in order to understand the world? Is it because socialising and participating in cultural events makes us happier?

A friend of mine lent me the book "A Room of One's Own" about women and fiction. Virginia Woolf put her finger on it: A woman must have money and a room of her own if she is to write fiction. 90 years later, Yuval Noah Harari in "Sapiens" says "The truly unique trait of Sapiens is our ability to create and believe fiction" (Sapiens: women and men).
Our women are cultivated and financially independent, most of them without family commitments, they are free to do what they want, and cinema is the perfect venue to socialise and to share fictions with other cinemagoers about films, opera, theatre, ballet or art documentaries.
It's a fact that, currently, adult and elderly women are keeping (classic?) culture alive. Also, some men, of course. We attend conferences, exhibitions, classical music concerts, theatre, or cinemas. The more cultural events we attend, the more cultivated and confident we are. And consequently, more and more demanding and selective in our criteria.
And it's because of this wonderful digital era that we, as exhibitors, are able to keep up with their needs, constantly offering them not just movies, but also theatre, documentaries and ballet from around the world.
Do I have a feminine perspective when I am programming these contents? Probably. Would this programming be different if it was a man who did it? Certainly. The contents would probably be the same. But not the way of presenting them.
Boglárka Nagy - DGT online informer No. 150
International Confederation of Art Cinemas
Berlin - Germany
I
have been in love with cinemas ever since my teenage years. It was just too beautiful getting completely immersed in films. In time, working in a cinema I have learned that several things contribute to creating an environment that allows us to become part of a story or of a universe prepared by artists and technicians. That every movie selected and presented with care needs to be scheduled and promoted just as carefully; that the soundproofing of a venue is essential to hear every detail that a Dolby system can offer; and that calibrating the colours of a digital projector is paramount to conveying to the audience the beauty of what the filmmakers wanted to show.
Digital technology meant a lot of change for the exhibition sector: an important investment in equipment (funded in some countries, but not all), easier access to films (by accessing the screeners necessary for preparing programming but also because shipment is a lot easier for DCP-s), a wider range of available content – from movies to interactive films, theatre performances and opera, online booking systems and, in some cases even the curation of an online offer of movies that are not on the big screen anymore. Good exhibitors put much effort into offering the best possible experience to cinema-goers and use the digital means at hand in the service of the audience. They are key partners of filmmakers and festivals alike, of all the people working on bringing good films to the audience. And when I say audience, I'm referring to a group of people coming together, waiting impatiently for a screening to start, watching the film together and leaving the screening room marked to some extent by the experience. This essence cannot be quantified in statistical terms referring to "subscribers" or "views", but will stay linked to a place where people gather with a common purpose.
Cinemas will soon go through a new wave of digitization. It will mean a new challenge for exhibitors, an important financial effort for the independent screens and an improvement in the quality of digital screening. But it will not change the essence of cinema – of which many of you will hopefully partake for many years to come.
Marjut Apilo-Olson - DGT online informer No. 148
Event Cinema Manager
Finnkino - Finland
We are 100 % digital! No, I don't mean screening films, that's past history now! What I mean is the reception of LIVE events, for which previously the venue's own satellite equipment was needed. Now live stream can be transmitted digitally to the cinemas, whether the event is happening at the MET in New York, Bolshoi in Moscow or just outside the cinema: for example, a red carpet screening.
Finnkino is a cinema chain with 16 multiplex cinemas around Finland. We started showing added content (also known as Event Cinema) over 10 years ago. The first live event on our screens was a Formula 1 race! However, MET Opera has has been the real booster of live event cinema development. Ten years ago, bold investments were made in satellite technology. A few years later also seasons from the Bolshoi Ballet and National Theatre were available. From 2013 onwards, there has been an increasing and very gratifying cultural offer: concerts, theatre, sports and art documentaries, and more. In other words, not all event cinema screenings are live, but all live events are Event Cinema!
For the past three years, we have used only digital technology on our live events. Our partner (Gofilex) downlinks the satellite signal, or in some cases, they take the signal dir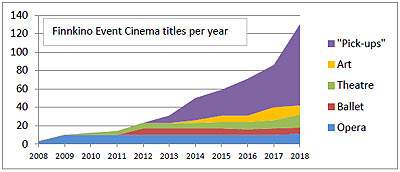 ectly from the production camera. This signal is transmitted through broadband to our screens. This is easy, cost-effective and saves resources at cinemas! It also gives us the opportunity to offer new type of added content, such as red carpet screenings, seminars, stand-up, BtoB-events... the sky is the limit!
My mission is to offer great culture events to our customers on screen. The world's greatest events should be easily accessible for everybody, with reasonable prices. Event cinema programming does not depend on expensive satellite equipment any more. Many great events are available also on DCP, sometimes only a few weeks after the live show. Live events have a special atmosphere, of course. Musicals played in London can now be enjoyed at the cinema close to the arctic circle without satellite signal disturbances caused by snowstorms. In the future digital transmitting technology will allow all cinemas to offer great live events from far and wide.
Patricia Wheatley - DGT online informer No. 147
Director, 2df Arts & Media
So far there is no agreed name for the growing phenomenon of live and recorded performance and documentary cinema productions that has developed in digital cinema in the last 10 years or so: Added Content; Alternative Content, Event cinema, Digital Cinema - none quite stick. I personally favour Arts Cinema, which can embrace all art forms but still makes a separation from feature films and general film documentaries. I have just been very grateful to receive two awards from Mallorca Arts on Screen Festival which recognised the British Museum's first venture in this genre: Pompeii Live from the British Museum which premiered in 2013 and British Museum presents: Hokusai on the great Japanese artist Katsushika Hokusai, which we showed last year, in June 2017. We also made Pompeii for children and Vikings Live from the British Museum in 2014. Pompeii Live was recognised as a major contribution to European cultural heritage on screen and I was very pleased to have collected such a special award in these days of threatened Brexit. It was the first broadcast from a museum exhibition - now there have been many - and was extremely well received by audiences. It included a tour of the exhibition with highlight objects as well as the dramatic story of the eruption of Vesuvius in AD79. Some were delighted to learn about the exhibition from the curators and other experts as well as going to the exhibition themselves, but for many it was their only means of visiting the exhibition and even the museum. For public institutions like the British Museum this kind of cinema creates a direct relationship with a global public. As producer of these films, and director of the Hokusai, which involved a film biography of the artist as well as a tour of the Hokusai exhibition, I feel passionate about communicating in this intense and special way with willing audiences. I was a BBC television producer for many years and reached many people through documentaries, but there is an especially rewarding relationship with the cinema-going public. We love the sense of occasion when people make the effort to go to - and pay for - a special screening; we relish the longer and more in-depth treatment we can give to people who really want to learn a lot about a subject and we love the fact that we can speak to audiences all over the world. I have now left the British Museum and am planning more productions for institutions in the UK. I am so glad this genre has blossomed - now we just need to agree what it's called. I'm calling on you all for votes on which is the best. Let us know!
Seneit Debese - DGT online informer No. 146
Greta & Starks App
- diverse audiences enjoy and experience the same film at the same time.
I love cinema as a window to the world that allows deep and emotional insights into life through stories. That's why I decided to start my own independent film distribution. During a documentary shooting about Kidisti Weldemichael, a blind Paralympics runner, I found out that Kidi had a lot of interests. The only thing she was missing out on was going to the cinema with her friends, because there was no way for her to fully understand the film. From my point of view, I simply couldn't believe that a person who enjoys movies and wants to go to the cinema, is excluded from that experience. There was already the technology to fly to the moon. Why not make films accessible?
The experience with Kidi inspired me to develop an app, Greta, in order to make inclusion a reality. GRETA is a special app and plays the existing audio description (AD) for blind or visually impaired cinema-goers and subtitles for hard-of-hearing individuals and people with hearing loss (SDH) at any time, place, or screening, whether indoor or outdoor cinemas, at home, at school etc. - simply, using one's own smart device. The app synchronizes to the film soundtrack and automatically finds the right film scene and plays the synchronous barrier-free version of the film. That way the users are totally independent and can choose their favourite film in their favourite cinema.
With the same technology, the app also offers diverse audio versions and multilingual subtitles for an international audience of 200 million persons in Europe. In this way expats, migrants, tourists, language students and many more can enjoy the film they want in the language they prefer. My vision is that no matter what language you speak or whether you have a disability or not, you will be able to share the same film in the same cinema theatre as anybody else - laughing at the same jokes.
Simonetta Della Croce - DGT online informer No. 139
Cineclub Arsenale, Pisa
Daniela, Camilla, and then I came along. For years the work of programming at the Arsenale Cinema was "women's business". A small group always on the lookout for new input to improve the cinema's cultural offer: from the classics of cinema history to quality premières, from films in their original language to silent films with musical accompaniment… and then retrospectives and occasions dedicated to authors, documentary film weeks: an unceasing job in constant evolution. Evolution that has always given priority to capturing the changes taking place in society, which have consequently influenced the style of cinema-going, too. Printed programmes, the backbone of our communication since 1982, have been joined over the years by our website, newsletter, Facebook page, Twitter and YouTube space, with its own special channel, and Instagram with the various competitions designed to involve younger audiences more. The same occurred for the digital shift: between 2012 and 2013 the theatre was equipped with the new technologies. With some regret we abandoned the good old film-reel - the demands of the market had become too pressing.
One last comment: to broaden our cultural offer, the foyer was transformed into an exhibition space, devoted to young artists (cartoonists, painters, sculptors), because our idea is to make the theatre into a total experience that reaches beyond simply programming a film.
In my work I'm assisted by two fantastic under-thirty-year-olds: Margherita Mattei and Antonio Capellupo.
Olivia Reggiani - DGT online informer No. 137
Les enfants du Paradis
I was born in the exhibition business so I've been kind of nourished by cinema since I was a baby! For many years my mother was in charge of an independent cinema (Ermitage, 5 screens) in Fontainebleau, a little town to the south of Paris. She was one of the first exhibitors to welcome directors for discussions with the audience. She told me that the first one to come to our cinema was Costa Gavras! In the 80's, she opened another cinema near Fontainebleau called Méliès (3 screens). After graduating from high school, I studied theatre at the university and travelled to New York for a while. I didn't plan at the time to work in the exhibition field. I was more attracted by theatre and circus. At the beginning of 2000, my eldest sister joined my mother. They were working together when I came on board in 2007. At that time my sister was working on a new project in Chartres. In 2008 we opened this new cinema together, called Les enfants du Paradis (10 screens). My work started in this cinema where everything still had to be done, which was very exciting. The town's art cinema had been closed 5 years before and the audience had to be brought back.
As private structures, we support our own financial investments and so we have mixed programming: blockbusters and art movies.
At Les Enfants du Paradis, people came in crowds to the commercial movies but it was quite a bit harder with the art ones. So I began to work in collaboration with local organizations to create events with them. I also started to create events for kids, screenings with the film crews etc... Today, after 10 years, we sometimes have 3 or 5 events per week! Last year my sister and I opened a new cinema in Fontainebleau called CinéParadis (6 screens). This one is like a brother to the Ermitage. It offers a more modern technology with 2 screens with Dolby Atmos sound. Having 11 screens in a city like Fontainebleau is a joy because I can focus Ermitage programming more on arthouse movies. All our cinemas are independent and members of the AFCAE (French branch of the CICAE, Confédération Internationale des cinemas d'art et d'essai). Keeping faith in the life of art movies is very important right now. It's not easy to deal with the incredible amount of films that come out on screen every week in France... It has become a real problem for everyone from the producers to the audience: too many movies, not enough screens, not enough time and space to keep the films on the screens. It's our job to stay passionate and to keep on defending movies that can still open up (and sometimes change) our vision of the world
Adéla Beranová - DGT online informer No. 135
ANEC Sicilia

I'm a lucky girl: I was given a perfect work opportunity nearly right after graduating. But let's start from the beginning. Media studies and Journalism turned to be my favorite subjects at the University as they gave me the possibility not only to explore the media market, but to learn a lot about PR and marketing as well. I started to work for the biggest national newspaper called MF Dnes, I wrote about HR problematics, but I became mostly interested in culture and especially in the cinema world. That's why I participated on many projects such as the international film festival Cinema Mundi, where I discovered the event cinema and started to be more interested in it.
Then I have become a marketing and PR manager of the cultural centre in Turnov, where I'm still working not only for the cinema, but also for the theatre and music department. That makes my job diverse and offers me a lot of opportunities to find connections between them.
Besides my regular job, I have cooperated with the association of cinema exhibitors on bringing the movie Alien to cinemas and, based on its success, I received an offer from Klaudia Elsässer, the head of Pannonia Entertainment, to become a marketing specialist in her company for the Czech market.
From September 2015 on, me and my colleague Adam Švancár have been working as agents of this dynamic agency and our goal is obvious. We don't want to be just a distributor. It is partly related to the type of contents we distribute: we mostly offer alternative contents such as operas, classical and rock music concerts, theatre performances, museums and exhibitions and also cult and some new movies to the cinemas. And with this, we have decided to bring the so called event-cinema to the Czech Republic. Meaning to offer not only the movie to the audience, but to include some other experiences as well.
I plan to use all my experiences to bring this nowadays not very well known trend to Czech cinemas, because it seems to be an efficient way to convince people to return to the cinemas.
We have already organized a couple of these events, we regularly invite special guests to our screenings and offer the audience not only the movie, but also a short seminar or a Q&A session with people connected to the topic. We have a special cinema screen in the center of Prague in the building of the National Library. But we do the distribution differently in each and every cinema in the Republic and the cinema managers are very enthusiastic to be supported in their own activities.
If someone is curious what kind of person I am, I would say I'm workaholic and to me this word doesn't have negative connotations. As my colleague Adam says, it is important to be able to find connections and opportunities where no one else can see them. But it also means that you can't ever stop thinking about your work. So even when I go out to make some photos on my digital or analogue SLR or during my sport activities that I like, new ideas can come. Traveling around the world brings me even more inspiration.
Someone could say that I am too young to have such opinions in my 24 years of age. But as I said in the beginning. I'm a lucky girl. I have met a great colleague Adam and recognized that we are a perfect couple to work for Klaudia from Pannonia Entertainment. And I find the cinema business so interesting, that I plan to give all my energy to it and stay in it for as long as I can.
Deborah Sapienza - DGT online informer No. 134
Regional Secretary of ANEC - Sicilian branch
My name is Deborah Sapienza and I was born in 1974. I'm the daughter of a Sicilian cinema exhibitor. I was raised on "bread and cinema" and have experienced all the various changes that have taken place in the sector over the past twenty years. The most radical of these was the shift from good old film to the installation of technology for digital screening.
After some experience working in family-run, single-screen cinemas and four years as deputy manager for the group The Space, and, in particular since 2010 as Regional Secretary of ANEC Sicily, I have had the chance to understand the sector's needs more thoroughly and identify, thanks also to an attentive and sensitive Presidency, the most effective tools for making the transition to digital.
Work to increase the awareness of Sicily's public institutions resulted in the publication in 2010 of a call for applications specifically intended to support movie theatres that intended shifting to digital technology, with a lump-sum contribution for covering up to 50% of costs.
Three million euros were used for three types of action.
To know more click here
The contribution, which initially aims to support single-screen cinemas and later include multi-screen movie theatres with up to 5 screens, has allowed 70% of Sicily's screens to adopt the new technology.
This technology certainly offers advantages for theatre management and for access to content, although distribution strategies have not yet fallen sufficiently in line with the theatres' new programming requirements to allow full exploitation of the potential that digital technology offers in terms of diversification. The next phase of my work will be in this area.
Petra Hanuskova - DGT online informer No. 127
main film restorer, Digital Audio Vision Project, Slovak Film Institute
My interest in film and media dates back to my teenage years, before I started my university studies. This became one of the main reasons why I chose to study mass media communication. When I finished university, I spent a few months living in the USA. It was difficult to find a job in my field when I finally came back to Slovakia.
As it happened, the opportunity to work as a digital film restorer occurred. Although I didn't have any technical experience, I learned everything necessary thanks to skilled guidance - how to restore a movie clip, frame by frame, how to use automatic effects or stabilization.
After a few years, I found my way from the private sector to the Slovak Film Institute. The Digital Audio Vision Project finally started and my colleagues and I had to revise all our previous knowledge and technical details. We had training from the UK and Sweden.
I became the main restorer which was a completely new situation for me. It wasn't just about concentrating on my own work anymore. My colleague and I had to manage a team of people; teach and train them to become film restorers. It was a huge challenge for me. I had never led such a large number of people before. The harmonization of work, people and information was the most difficult aspect of my job. In the end we managed to train more than 30 people in movie restoring. I am pleased to say, we have a great team of skilled operators who share the same goals.
It is important to preserve the film's authenticity. We digitized old Slovak films, such as Zabudnite na Mozarta, Vsetko co mam rad, Fontana pre Zuzanu and many more in cooperation with their creators. Restored works can be seen on TV and in cinemas. There's always a sense of satisfaction when my friends and family call to say they saw a movie we had worked on.
Over the last two years we have managed to digitally fix at least 15,000 scratches, 5,000 splices, 2,000 tears; cleaned, frame by frame, animated babies, revolutionary documents, saved princesses, hundreds of trains, pigeons and dozens of final subtitles.
Hopefully I will have a chance to keep improving my technical and management skills, as well as continue working with such a good team in the future.
Cristina Santagiuliana - DGT online informer No. 119
Business Development Manager, Open Sky
I had already started to be drawn to the world of show business even before I started high school. I knew that I would be studying economics at university but the dynamics of show business made me very curious: I liked the idea of organizing and working for artists, especially musicians. That's why, in 1997, after I obtained my high school diploma, I decided to choose a course of international studies: International Business, specializing in event management. I graduated four years later at Nottingham Trent University and on my return to Italy, after an experience in Australia lasting several months, I had the chance to collaborate with all the biggest organizers of music events in Italy through my little company, Planet Wave.
In my seven years as production assistant, I gained invaluable experience both professionally and in terms of human relationships, not to mention my own personal growth. What gave me greatest pleasure was the successful conclusion of projects that were all different from one another. It was always an exciting commitment: different problems to solve, the people I worked with experienced things differently and had specific demands. It meant stress, adrenalin and the final satisfaction when the artists went on stage and my exhaustion disappeared with the audience's acclaim.
This experience forged my love of challenge and that's why, when the experience of Planet Wave came to an end, I accepted the proposal from Open Sky. It was 2009. The company was then in its start-up phase, as its Cinema division with its first broadcastings of live events had been launched only a year previously.
The show changed: from live events I shifted to cinema, always behind the scenes. It was a totally unknown sector to me: from pure organization I moved to technology, the only woman amongst the technicians and engineers! A new challenge took shape on my horizon: on the one hand, to create the network of cinemas equipped with the Open Sky satellite kit, on the other, to form relations with the distributors, so that Open Sky became the preferred carrier for their digital films. Satellite cinema in Italy was yet to be invented and Open Sky created it.
Initially I was to have dealt with live events only but in the months that followed, as "business developer" of Open Sky Cinema, I contributed to bringing to life a new market and had the opportunity to experience first-hand the whole process of digitalization of movie theatres and content, alongside the exhibitors and distributors. It was a long transformation, sometimes hard because of the investments necessary but also because of the cultural resistence that all radical changes imply. To overcome this, Open Sky had - and continues to have - the right arguments: the quality of the product and of assistance. To sum up, being a precursor of its times, Open Sky has the future on its side. And so today, six years on, I can safely say that I'm satisfied with the results Open Sky has obtained: in Italy around 600 cinemas are equipped with our kit for satellite reception, representing 86% of the market out of the total Cinetel box office.
Finally, I'd like to return to the question of challenge, in connection with the new service we launched at the end of 2014, i.e. the On Demand service. This is a new dimension in the delivery of digital content, which uses the broadband digital terrestrial connection. We created the On Demand platform to give distribution the chance of making more prolonged use of titles and to make the most of the library, whilst exhibitors were offered the possibility of rendering their programming more flexible and personalized, a tool whereby they could get hold of titles easily without wasting time and energy. By using our On Demand service, the exhibitor has the films available when he actually needs them, enjoying the maximum flexibility of the download for single transmissions.
Digital cinema is not yet at the end of its evolution.
Isabelle Fauchet - DGT online informer No. 116
Founder and CEO of Live Digital Cinema
I was born in France and at the age of 13 decided that I would move to the UK as soon as possible. I did so at 21 after graduating in International Trade in Paris. Initially, I studied at Guildhall University in London and got a degree in Film, Business and German. Whilst I am still a French national although I have been living in the UK for 24 years and my kids are British, my family is multi-cultural and multi-ethnic (I have Japanese, West Indian, French, Dutch, and Danish and Native Indian roots). I think this played a big part in my moving to the UK (I come from a long line of migrants!) and to work in the development, production and distribution of TV documentaries internationally as those encompass stories from around the world.
My career now spans some 23 years in the digital world. Some early highlights of my career include setting up the Documentary Development Funding Department for the European Commission MEDIA Programme II in the mid-90's and distributing and raising finance for documentaries for a number of UK and French based producers.
I also filmed and produced two documentaries, one of which, shown on French TV, was on my Japanese great-grandfather, a child acrobat performing in the Vaudeville circuit in the United States in the late 19th century. It's in the course of making this film (a labour of love over 10 years) that I discovered that many of my forbearers (including my grandfather) had been film projectionists in the early days of cinema. I even found a 3-minute film shot by Thomas Edison in 1901 at the Pan-American exhibition in Buffalo, NY, called "The Japanese Village" which features my great-grandfather, then 21, performing with his two brothers. This was truly a jaw-dropping moment in my life. It is one of the earliest films of cinema and part of the American heritage held at the Library of Congress and readily available to view on YouTube.
In my early 20s, I also had a strong desire to become an opera singer. However, having built a career in the media, I felt it would be hard to switch over. This is perhaps what led me to get my first job in the media selling ballet and opera programmes to airlines. Little did I know that 20 years later, in 2009, I would be heading the Cinema Department at the Royal Opera House in Covent Garden. I found myself now working in film distribution and had to familiarise myself quickly with the specifications of this changing industry.
It was both a fantastically exciting and challenging time as the digital roll-out in cinemas across the world was still underway and few cinemas were showing what we call alternative content or event cinema at the time. The Met had only just started the live transmissions of its operas and I was to develop with a small team the full international cinema network for the ROH. Whilst it took a lot of convincing at the beginning, cinemas saw over time an incredible surge in the audiences for this particular content and in the years that ensued the number of cinemas showing this type of content grew exponentially.
Having established a full network of 1,000 cinemas in some 45 countries at the ROH in under 5 years, I left the ROH in late 2013 to set up a consultancy, www.livedigitalcinema.com, working specifically on cinema events. My main client is the distribution company More2Screen. Because of my experience with early cinema events, I was asked to join the board of directors of the Event Cinema Association when it was created in 2012. I am thoroughly dedicated to this area and feel that the possibilities of new cinema formats are endless. However, what makes me happiest of all is to know that through live screenings in cinemas that only this digital technology can provide, people are now able to experience and enjoy the same event simultaneously around the world.
Sonia de Beaufort - DGT online informer No. 115
Vice President, Rising Alternative
In the world of opera, they often say that the die is cast early. This certainly has been true for me.
When I was 5, I fell into the world of classical music, into the world of Opera at 13, and in 2007, into the world of digital cinema and alternative content.
In kindergarten, my teacher proclaimed I had a musical gift. The conservatory director determined I would play violin. I had perfect pitch, a blessing and a curse (email me if you want to discuss the perfect pitch thing.) At 12, my music theory teacher told me I should sing, thinking of jazz and rock, which were his specialties. Shortly after, the Opera du Rhin in Strasbourg was auditioning for The Cunning Little Vixen, Janacek's opera. I got a part, discovered the Opera world and fell in love with it. I trained my voice to become an opera singer. In parallel I graduated with a degree in Italian. This was "just in case" as my parents would say. But my heart and passion was always with Opera. And I succeeded in being an opera soloist; I gave a lot of recitals as well, mainly of French music, and that lead me to record CDs for different labels.
Then my personal life took over my career. I was born in France, wanted to live in Italy, and moved to the US. In New York, I carried my passion for the Opera into a new dimension - the Cinema and I joined Emerging Pictures. After having spent so many years working on my own voice, my job was to watch as many productions as possible and listen to all the singers from around the world. An eye opening experience! There are not only amazing singers, but incredible directors and conductors thrilling audiences around the Globe. During my time at Emerging Pictures, while working on selecting productions to offer to digitalized cinemas, I also learned all the technical aspects of the business: DCPs, encrypted or not, KDMs, supplemental packages, satellites, subtitles format and sync … All this new and varied offering to the cinemas was possible thanks to digitalization. We introduced the concept of distribution of operas to the other great innovators in Digital Cinema like Arts Alliance with whom I compete today. Ha ha, I do not blame them, we are allies in building the overall worldwide audience.
With Giovanni Cozzi, I created Rising Alternative in 2010, to expand the distribution of our content, in a more thorough way, to the world. I've represented operas from Salzburg, Paris, San Francisco, Milan, Vienna, Barcelona, Bregenz, Munich, Madrid, Zurich, Valencia, Bologna, Torino, Parma, Taormina and many others. My watchword has always been: diversity. I love to offer world-class productions from as many different Opera Houses as possible. This is what art is all about: discovering, sharing and spreading the variety of interpretations, singers, directors, conductors.
Today I'm overseeing all sides of the company, from the financials, to strategy to marketing and operations. These are still early days for this channel of distribution. What lies ahead is very much what I focus on. And that provides all the excitement I need.
Klaudia Elsässer - DGT online informer No. 107
Founder and manager of the cinema events agency Pannonia Entertainment
A passion for languages - as well as Hungarian, I speak French, English and Italian - and for literature were what led me to obtain my two degrees in these fields and, more in general, devote myself to spreading culture and art internationally.
For thirteen years I worked in publishing, ranging from children's books to university texts and then, a little over four years ago, I began organizing HD screenings of cultural events for the Urania, the National Film Theatre of Budapest. I translated marketing material, adapted texts and also launched English conversation classes connected to the operas, ballets and theatrical performances on offer at the Urania: all this with the aim of promoting our programming and encouraging the interest of the press and the general public.
This was what prompted the decision I took two years ago: to open an agency specialising in the distribution of added content for movie theatres. And so Pannonia Entertainment was launched with the main objective of developing what is known as "event cinema": bringing quality entertainment to the big screen and helping cinemas to become poles of aggregation for cultural events and internationally important entertainment.
Having worked in this field from the perspective of the cinemas, I tried to select the most interesting content, in order to offer spectators, particularly in Eastern and Central Europe and the Balkans, the various different expressions of visual music - from classic opera to pop and rock concerts.
However, our role is not limited to providing exhibitors with performances produced by prestigious institutions like La Scala, the Royal Opera House, Covent Garden or Shakespeare's Globe Theatre: we organize supporting events so that audiences in Hungary, Slovakia or Romania feel they are at the centre of these special evenings.
And so, to celebrate the 450th anniversary of Shakespeare's birth, we created a photographic exhibition on the Globe's history and a gala in which two choirs took part and an actor recited poetry, as well as an exhibition of books, a lecture by an academic and a screening of The Tempest from the Stratford Festival in Canada.
This new adventure in the area of world culture, made possible by digital technology, represents a challenge for me, which I intend to meet by paying close attention to the quality and entertainment value of the content, while at the same time trying to satisfy the demands of the exhibitors and their audiences. "Made to measure" content for each cinema and considerable flexibility are the features that I focus on to try and make Pannonia Entertainment an authentic ally of movie theatres.
Ena Dozo - DGT online informer No. 106
Head of Sales & Acquisitions for Obala Art Center
I have always been fascinated by the cinema, imagining how a film was made, the technologies used, everything that was "behind the big screen".
I remember the period, when I was visiting the Sarajevo Film Festival: it was a must-go event and everything was focused on carefully studying the programme and choosing the films that had to be seen.
Before the screenings, I would think about the people who were behind the organization of such an event, what kind of work it was, imagining how it was to work in this environment and it seemed like the perfect job, but unattainable for me.
In 2008 I finished my journalism studies in Sarajevo and moved to Vienna, where I worked as a Radio and TV producer.
Before moving to Vienna I had my first professional experience with the Sarajevo Film Festival, at the Documentary Competition programme in 2008.
In 2010 I moved back to Sarajevo and started working full-time for the Sarajevo Film Festival, which is an international event with a special focus on the region of South East Europe. In an emerging territory of over 140 million inhabitants, the Sarajevo Film Festival serves as a common platform for the film industry in the entire region, setting standards for the organization of film festivals, as well as for the promotion and presentation of films in South East Europe. It shines an international spotlight on films, talent and future film projects from South East Europe.
Today, I am the Industry Manager of the Festival, which runs many initiatives, such as the co-production market CineLink, Work in Progress, the Regional Forum, its Industry Terrace, Talents Sarajevo, Sarajevo City of Film and the Docu Rough Cut lab.
Besides that, I am managing the project Operation Kino, which is a year-round traveling cinema project across Bosnia and Herzegovina, enhancing digital distribution, audience education and development.
This year, Operation Kino will also launch its Video on Demand service for Bosnia and Herzegovina.
I am also on the management board of the cinema Meeting Point and the Head of Sales & Acquisitions for our company Obala Art Centar.
The thing I love the most about my job is the particular feeling and energy that comes from working in the organization of the Sarajevo Film Festival, but also working on developing different models for reaching audiences, choosing content for them, bringing the big screen to places where there isn't any audiovisual output.
It is all about the film and the different ways to approach audiences, but also a unique way, through various technologies and models, to share your passion for the work you are doing.
I am also the national representative of the Kinofication project, developed and started last year, aiming at turning existing publicly owned cultural centres into a modern cinema infrastructure in municipalities across Bosnia and Herzegovina and Serbia.
After the Sarajevo Film Festival became fully digitized last year, I used the opportunity to make my first "date" with the brand new DCP that we have also got in our cinema Meeting Point, being eager to learn more about the new technologies, its ways of use and advantages. Therefore I participated in the DigiTraining Plus, organized by MEDIA Salles, a great opportunity and a way to get more engaged with new technology and its models for the European cinemas of the future.
Eveline Ferwerda - DGT online informer No. 104
MACCS International (NL)
From Digital Transition to Business Transformation
In 2009 I launched my career in the cinema business by writing a thesis about the impact of the transition towards Digital Cinema. To gather the information I needed I interviewed industry stakeholders and was immediately mesmerized by 'the Digital Promise'. Once digitalization was a fact it would make operations cheaper, it would be easier to handle and it would open a gateway to endless variety of content. Once digital everyone would benefit and thrive from its power.
The promise sounded so good that I decided I had to help make it a reality and from that moment on I've been a woman with a mission: digitize and harvest.
Luckily the objectives were already clear when I started my assignment: achieve a 100% digital landscape for the Dutch cinema industry. We set up a project group, lined-up all the stakeholders, drafted the project plan, which translated into a business plan and finally resulted in a successful and complete digital roll-out in only 14 months. By September 2012 Cinema Digitaal brought Dutch cinemas within close reach of the digital heaven, at least I thought it did. Once the technical part was finished I thought the benefits of digital could be harvested immediately. But this was obviously not the case. We hadn't finished yet, instead we had only completed the first part of the journey from analog to digital. It was then time for phase two: influencing strategy and changing processes to embed the digital mind-set.
And with this next phase came my new job: business development. Early this year I joined the team at MACCS International to coordinate the roll-out of their DCinemaHub. MACCS Int. - a software development firm specialized in ERP solutions for the film distribution industry - is currently being used by over a 100 distributors, major and independent compagnies in 37 countries and this number is rapidly increasing as the company expands. It's estimated that over 50% of all bookings for cinemas worldwide are made on the MACCS Int. software platform.
In the fast moving world of digital cinema MACCS Int. focused on building the right tools to support the changing needs of the industry and help it align better with the newly adopted digital cinema workflow.
MACCS Int. listens closely to their customers during the transition to digital cinema. Customers often stressed that the KDM Management process in particular consumes a lot of valuable time giving both exhibitors and distributors lots of headaches. I even overheard someone calling it "the KDM inferno". The industry signaled the need for a proper solution that would support this new process and automate as many steps as possible in order to make it both effective and efficient.
MACCS Int. has responded by developing a new solution that does just that: the "DCinemaHub". As an extension to any theatrical distribution software solution it fully automates the ordering and delivery of digital content. From one interface, DCP and KDM bookings are translated into orders and forwarded to any lab, depot or delivery partner of choice, to be processed. Digital labs like Technicolor receive the orders directly in their system and once processed report back their status to the DCinemaHub. The distributor that has made the booking can keep track of the logistical operation behind his desk. In the near future we shall be able to report if an issued KDM is delivered and working on screen level by connecting with the TMS in the Cinema. The simple, color-coded dashboard in DCinemaHub will show if there is something to worry about at a glance bringing ease of mind to all stakeholders.
DCinemaHub is now Live in 5 countries (Germany, The Netherlands, Norway, Finland, Switzerland) and soon Denmark, Sweden, Australia, Canada, Turkey and the UK will join. Onboarding all MACCS Int. territories will be my main objective for the next two years. A challenge I cannot not pass up.
Laura Sipos - DGT online informer No. 100
Cine-Mis Nonprofit (HU)
The cinema has always been a passion of mine: I was already a regular visitor at the single arthouse cinema in Miskolc even before taking my job.
When I finished my studies at the University of Miskolc, this passion became my regular profession, as I started to work for Cine-Mis Nonprofit Kft. from the beginning of 2013.
The experience went far beyond my expectations. When I sent my curriculum to an email address ending in cinefest.hu, I didn't realize then that I would soon become part of the group responsible for organizing CineFest, which is one of the most prestigious festivals in Hungary.
It seemed a great experience because I was already a faithful visitor to CineFest and looked forward to the Festival every year as a superb event. Now I was able to see it from the other side, from the organizer's side. As a jury-coordinator I met successful international actors, directors and film industry professionals, even making friends with some of them. Organizational tasks suit me and it was a chance to try myself. This side is just as exciting as being a guest at the Festival.
The routine work, too, is very similar to festival organization: in fact Cine-Mis also runs a two-screen movie theatre.
The smallest, Béke Art Screen (70 seats), was digitalized in 2011, whilst the other, the Urània Art Screen (140 seats) in 2012. At the Urània we have also installed a 3D projector.
Our policy of offering 3D screenings at a limited price has been very successful with spectators and has increased our audiences.
I was personally involved in the digitalization of the Urania and the installation of the 3D, which was made possible by funds coming partly from the town council of Miskolc and partly from the European Union.
This plunge into the area of new technology came on top of my normal work, which is mostly connected to programming, content management and the organization of events for different types of audiences, including schools. We organize thematic film series like French Film Weeks, Polish Film Day or European Panorama.
I had the chance to go to DigiTraining Plus after a tight year working here and this helped me expand my knowledge of the technical side of cinema. I was also able to become familiar with the operation of cinemas in other countries. At this course I collected ideas whose realization increases the number of our spectators. For example, in Hungary it is not typical to do live satellite streaming of events. In Budapest, our capital, there are several interesting theaters, operas, dance performances which a lot of people can't go to but with this satellite system they can see the performances at the theatre much more cheaply. This is a new possibility for us.
Summarizing, the world of cinema is a mission for me which is directed at keeping the charm of cinema alive in our city Miskolc and creating the arthouse cinema atmosphere which contributes to making cinemagoing a rich and fulfilling experience.
Christine Costello - DGT online informer No. 99
Managing Director and Co-Founder More 2Screen Ltd (UK)
I've found myself being described as a pioneer of late but I didn't become one until mid-career. I had 20 years' experience of the commercial management of media companies (I reached board director level at a UK national media group, Express Newspapers, then moved to become commercial director of Scottish Media Group) when I was appointed CEO of the iconic UK cinema advertising company Pearl & Dean. This was in 2001 and at the very start of the UK's transition to digital cinema. Almost immediately I was made aware of the challenges that lay ahead: Warner Village Cinemas asked P&D to deliver all elements of the film and pre-show in a new digital format as 'proof of concept' - and this within a deadline of just four weeks.

We succeeded in doing so, thanks to all parties concerned pulling together. This not only gave me a glimpse of the exciting future of digital cinema that would fully unfold a full 10 years later. It also brought home to me the importance of collaboration within the film industry at every level. I had always loved the medium of cinema, from blockbusters to art house and all points in between. A BA degree in French and German meant that I also understood a little about the European market. And within five years at P&D this background had led to me being both VP of the UK's cinema advertising trade association, the CAA, but also of the worldwide advertising body SAWA.
Jorien Scholtens - DGT online informer No. 98
Researcher at the Netherlands Film Research Foundation (Stichting Filmonderzoek)
In my living room there are two cinema seats, single-handedly removed from a cinema a couple of years ago. They are very old, their dark red colour has faded and they are not at all comfortable, but they remind me of the magic of the big screen, and my love of sitting in the dark watching great films. Fortunately I do not leave my passion for film at home, I take it with me to work everyday, where I research the Dutch film industry. I'm a Master in Film Studies and a researcher at the Netherlands Film Research Foundation (Stichting Filmonderzoek), see www.filmonderzoek.nl/english. The Foundation carries out researches on the film industry in the Netherlands commissioned by the exhibitors and distributors associations and other market parties. An interesting coincidence is that the founding father of Stichting Filmonderzoek is Dr Joachim Ph. Wolff, who has been scientific advisor to the MEDIA Salles Yearbook for many years. Over the last three years I have learnt from him what good research is all about.
The aim of our research is to provide practical knowledge to the film industry, by establishing accurate and useful data on audiences and industry developments. I contribute to this with research on the audience perception and market for our national cinema - an English translation of the conclusions will be available soon - and of course with my research project on digital cinema. My first report about digitisation appeared last year and it stressed the expected impact of the Dutch digital cinema roll-out, based on interviews with exhibitors and distributors. The Cinema Digitaal project that contributed to the 100% digitisation of all screens in The Netherlands had just started. While there was no clear vision for the digital future, there was certainly no lack of progressive pioneers with innovative ideas. Inspiring discussions I had with exhibitors and distributors about this innovation - seemingly invisible to the public - made digital cinema a fascinating topic for further investigation. Now that digitisation has reached its conclusion in The Netherlands and more experience has been gained, the research project is being followed up with a new study. I will now focus on possible changes in the size and scale of new film releases as well as experiences now that all cinemas are digital.
I hope that my research can contribute to a better understanding of what the impact of digitisation is and that my conclusions can be shared within the international community. During the Dutch Film Festival that was held in Utrecht at the end of September I observed the true impact of digitisation, as young filmmakers are given the opportunity to show and view their films on the big screen much more easily and cheaply than was possible in the 35mm era. In the long term this will be a valuable contribution to the importance of the cinema screening room. And, in my opinion, that's what digitisation should be all about: keeping the cinema theatre as the main stage for sharing the magic of film, now and in the future.
For more information, contact: jorien@filmonderzoek.nl
Ann Overbergh - DGT online informer No. 91
BAM-Art
If greed is a capital sin, surely that doesn't count when the object of it can be shared amongst many. I myself am guilty of not choosing between cultural passions. My first love was music, and I started my career working for an experimental music festival. After moving on to theatre, music theatre and opera and volunteering for music clubs and art cinema for a while, for the last four years I have been working for BAM Art. BAM Art is the Flemish support organization for visual and audiovisual arts and cinema. We help professional players (exhibitors, distributors, educational workers,...) by spreading info and knowledge: newsletters, conferences, workshops, personal advice, etc.
BAM Art has been actively involved with shaping the financially complex transfer to d-cinema equipment for the smaller and more vulnerable exhibitors in Flanders. We hired expert Sophie De Vinck to assist and coach us in negotiating the best deals while preserving cultural diversity on Flemish screens. Notwithstanding exciting opportunities - high quality image and sound, the possibility of more diversity and flexibility - there were also considerable risks involved, the most important being that of jeopardizing our exhibitors' freedom of choice in programming. We are proud that, with the help of the Flemish Culture Ministry, we have managed to help nearly all of our cultural exhibitors to make the move to digital projection.
But digital cinema is more than 2K-technology alone. It involves the convergence of different media and delivery circuits for digital storytelling. It paves the way for exciting trans-media projects: stories inhabiting the big screen or television, online, in game versions, interactively engaging with audiences on social media, and creating new formats for different screens. It involves event-based cinema, concerts, debate, and theatre pieces, interactive after-show discussions with artists, the streaming of online content etc. It also involves new modes of production and distribution.
Convinced that Europe must not shy away from other parts of the world for inspiration, two years ago I started following related developments evolving in Africa. I am now working on a PhD focusing on new media, new technology, and how they affect the production and distribution of audiovisual creative content in East-Africa. The greater focus on mobile content in particular could be an inspiration for European creative artists. Short comedy series for the small screen, animation, interactive platforms for sharing music and poetry, self-made shows shared through mobile phones... Because after all, without creative story-telling, technology is just a shell. It is great to see an ever-growing pool of creative talent making use of innovative technology to produce a myriad of new and exciting stories for us to enjoy.
Sophie De Vinck - DGT online informer No. 89
Senior researcher
iMinds-SMIT, Vrije Universiteit Brussel
As a researcher, I have found it fascinating to try and piece together the complex ins and outs of a sector where "nobody knows anything", as William Goldman once said about the film industry. After my studies (Communication Studies and an additional year in European Politics), I joined the VUB research centre SMIT (which is part of iMinds) to begin a PhD on the European audiovisual industries in the digital age. Starting out with a rather broad interest in how digital evolutions were affecting the cultural industries in Europe, I became fascinated with how these developments were shaping the future of the film sector. Even before the completion of my PhD in 2011, I became particularly interested in the challenges posed by the digital cinema transition. It is clear that this is about much more than resolution or other equipment characteristics: it is about rediscovering the magic of the cinema experience in a digital context. Here, cinema owners can use a variety of old and new tools to make their venue stand out amongst the many different leisure and culture options available. The digital future is not one of cookie-cutter solutions, but I am convinced that the additional workload that comes with it will be very rewarding, every time the right match is found between the theatre venue, the content (not necessarily only films) and the overall experience offered to the audience.
I see the installation of digital equipment in theatres as a first step in this process, and it is important to enable as many theatres as possible to take the hurdle. Ideally, this happens in a collaborative process, involving the different sector players as well as other stakeholders and policymakers. Luckily, this was the case in Belgium, where I have been actively involved in several policy initiatives to render the digital transition possible, even for smaller arthouse or neighbourhood cinemas. As such, I led the tendering process and integrator negotiations of the "Digital Cinema in Flanders" (DICIF) and the "Cinéma Numérique Wallonie-Bruxelles" (CNWB) initiatives. Both united cinemas under a common banner, centring on the idea of a buying-group VPF solution. As a researcher, it was very rewarding to be able to put my research experience to a more practical use and to collaborate intensively with different cinema owners, policy departments and other stakeholders, such as the Flemish institute for the audiovisual and cinema, visual, and media arts BAM Art.
The end of the year may bring the completion of the digital cinema roll-out in Belgium, but the journey continues, and I look forward to being a part of it.
Camelia Vajeu - DGT online informer No. 88
Marketing Officer - dcinex™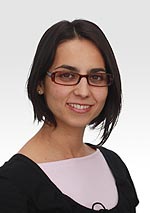 I graduated from Transilvania University (Romania) in 2002 with a passion for marketing and communication.
I entered the magical world of digital cinema in May 2009, when I started working as Marketing Officer for XDC, the European leader in Digital Cinema. I had the chance to be in contact with many aspects of the European cinema industry and witness first hand many of the major developments in this industry, and I thrived on the responsibility of sharing this across the industry, which I found exciting and very fulfilling.

What started out as a job turned into a passion and now, the technological and digital revolution of cinema represents my area of core expertise and professional interest.

In order to maintain its leadership in the cinema industry after the digital revolution, my company has pioneered new forms of content distribution and protection, alternative content and cross-media. As Marketing Officer, I am the communication engine behind these changes, the organizing force that coordinates the new activities and project-manages their public presentations. My professional skills cover communication, event organization and co-ordination, project management, social media marketing strategy.

Lately, I have been at the centre of the rebranding of XDC, FTT and BEWEGTE BILDER into dcinex™. The main goal in merging these three companies is to offer exhibitors and distributors the one-stop-shop that the industry has always needed. This important project gave me the opportunity to meet and talk with the most important figureheads in European digital cinema, both exhibitors and distributors, but also manufacturers.

Feeling the pulse of the most fascinating and fast-paced industry in the world, meeting extraordinary people all the time, is far more than a job for me.

Being informed before most people about intelligent ticketing systems, seeing new projection techniques and hearing the most advanced 3D sound systems, makes my passion for digital cinema even greater. There is only one thing even more exciting: the future. Something tells me that the future of digital cinema will be more than amazing.
Gabriele Röthemeyer - DGT online informer No. 82
MFG Filmförderung Baden-Württemberg
After her studies of German, theatre and journalism in Munich, Gabriele Röthemeyer worked as commissioning editor and producer/director of television documentaries for educational programs at the North German Broadcasting Corp. and ZDF. Between 1982 and 1989 she served as drama adviser and producer for several film and television production companies in Hamburg (Provobis, FFP). This was followed by a five-year period of free-lance writing/directing features and documentaries for public television (culture and film departments mainly). In 1995, she was appointed CEO of MFG Film Fund, Medien- und Filmgesellschaft Baden-Württemberg.
Successful involvement in cinema digitalisation in Baden-Württemberg.
MFG Filmförderung Baden-Württemberg had already supported cinemas in the transition from analog to digital presentation technology for many years before this involvement was expanded and intensified in 2010 with the creation of the special program for cinema digitalisation. An ambitious funding project was implemented under the leadership of CEO Gabriele Röthemeyer and the consultant for cinema funding Uschi Freynick. With funding totalling 1,300,000 euros, it had already brought the latest technology to 76 screens in Baden-Württemberg by the end of 2011. A further 1,500,000 euros will be provided for cinema digitalisation within 2014. This makes Baden-Württemberg the pioneer and one of Germany's most progressive regions in the field of funding cinema digitalisation.
Röthemeyer and Freynick, two women who were there at the inception of MFG, have made it their task to maintain the above-average percentage of program cinemas and the large number of cinemas in Baden-Württemberg. The best possible digitalisation funding is to be implemented in meeting the challenges of the switch to digital particularly to ensure the future competitiveness of small cinemas and rural cinemas, which are often the only form of culture available in such areas. Funding is closely linked to quality criteria with priority being given to art-house cinemas and film theatres which focus on European and German films or are even awarded MFG's annual cinema program prizes for their high-quality programs.
All commercial cinemas, program and art film theatres in Baden-Württemberg with a maximum of six screens per cinema are eligible to apply for funding. Per year, however, only one screen per film theatre can receive it. The funding for digitalisation is in the form of a subsidy amounting to 25% of the costs eligible, up to 18,000 euros. Costs of servers and projectors as well as the installation of digital projection technology can be subsidised. The funding decision is made by the awards committee for cinema innovation loans. The possibility of combining digitalisation funding by MFG with other public funds such as from FFA and the BKM is particularly advantageous for cinema operators.
For further information:
www.mfg-filmfoerderung.de
Contact:
MFG Filmförderung Baden-Württemberg
Breitscheidstraße 4
70174 Stuttgart
Germany
filmfoerderung@mfg.de
+49 711 90715-400
Renata Pawlowska-Pyra - DGT online informer No. 81
Polish Film Institute
My cinema adventure started in Slupsk, my family town, in Poland. There I finished high school, where for 4 years we had special classes in the history of cinema, theatre and fine arts. At the beginning of my university studies, I reopened a cinema club in Szczecin with my friends and started off a cinema festival. I graduated in law at the University of Szczecin in 2004; my master's thesis regarded the cinematography sector in Poland.
In the years 2004-2005, I acted as coordinator of the Art-house Cinemas Network. For many years, I was involved in cinema distribution, first as a distribution specialist, then as director of marketing and promotions working for SPI International Poland. I am a vice President of the Art-house Cinemas Association and cinema consultant for the MEDIA Programme, Ministry of Culture and National Heritage and National Film Archive.
Since 2009, in the Polish Film Institute I have been involved in the transition of cinemas to digital screening technology as well as in the digitalisation of audiovisual materials. Cinemas are at the point when the choice is to go digital or to close. Yet the costs of digital equipment are sometimes out of reach for most exhibitors. I am glad that the PFI started its grant programme last year.The number of digital, non-multiplex, screens is on the increase. And new ones will be going digital in the coming months. But... digitisation changes a lot. The method of programming has changed in digital cinemas. New possibilities, new advantages, but also disadvantages have come with it. Most cinemas have access to premiere films, which was impossible in the past. With new content available comes the question about the function of the cinema as a movie theatre or multi-art- house. I am absolutely open to new solutions, new ideas for cinema. I am keen on new technologies and possibilities on the screen. I am curious where we'll be in 5-10 years. 3D without glasses? With intelligent cinema screens and seats?
Isabel García - DGT online informer No. 77
ACEC (Area Catalana d'Exhibició Cinematogràfica)
I have been working at ACEC (Area Catalana d'Exhibició Cinematogràfica) since 1999. I am part of the team dedicated to the programming of the screens belonging to the chain based in Spain. I am also a member of the Intellectual Property Commission of FECE. And I collaborate in the programming of FECINEMA, a Festival that takes place in Manresa (Barcelona) annually.
My view on digital cinema is that it is a reality and has reached a point of no return. Now that the step has been taken, we should focus on the many advantages, leaving behind the small disadvantages that we must accept.
We cannot deny that the Cinema Industry is a sector that has stayed loyal to its principles for too long when compared to other sectors. This is why many are afraid of the digital world. We are all aware of the issue of expiry dates. Technology is already obsolete the minute it is installed.
I must also add that in the crisis the sector is experiencing, due to several specific threats and the state of world affairs in general, the expenditure required is a worrying factor. Not to mention the new actors that have sprung up, the integrators. The latter have become a relief in a way, yet created alarming dependence in another.
But, let's focus on the advantages. From the programming point of view, which is the side of the business I know best, digitalization brings many advantages, which accompany a change in the exhibitor's mentality and obviously also in the distributor's.
First of all, the very easy access to copies. The original promise of all cinemas with an integrator having the desired copies makes no sense because this wouldn't change the business model but become a way to destroy it. However, it is a fact that cheaper copies - nowadays the VPF increases the price of the copy to the distributor - will make it possible to reach more cinemas in the long run.
Above all, programming can be improved when it comes down to versatility: the chance to have more than one film loaded in different versions; the alternative content that provides advantages; a diversified offer of events that not only enriches the programming but can get rid of the many dead times in the cinema; the chance to provide double programming, rediscovering old versions (the role of the marketing department is also very important when it comes to creating exceptional events). It is a good time to recover the copyrights of many old titles, which can find their place with not too expensive copies and, especially, be offered in good condition.
Obviously, advantages do not come only from the programming side. The advantages in logistics and the quality of the copies is another fact that deserves attention:
A hard disc with KDM is infinitely more operational than the old 35mm copies, not to mention coming improvements like the smart jog that will enhance it even more in the future. Moreover, the intangibility of the product is also a reality and it also makes us much more dependent on technical support that is not physically available in the cinema. However, this service is taking gigantic steps forward.
There is also the image quality, even though it cannot be immediately appreciated by the viewer, where it will be made clear in the long run that the quality offered is far superior.
However, I insist this has to be a team effort between owners of the screens and distributors. I believe that although digitalization means a substantial improvement in the quality of the services offered and is a necessary step to be taken by the sector, we cannot forget that our main worry will still be to have the audience that appreciates the social value of cinema-going.

Educational Background
I have a degree in Law and another one in Art History (Universitat de Barcelona). Erasmus in Montpellier (Université Paul Valéry). I hold a postgraduate degree in Management of Cultural Institutions, Companies and Platforms (Universitat Pompeu Fabra). I also followed the specialisation modules in Intellectual Property, Audiovisual Law and Concurrence Defense and Unfair Competition organised by ESADE University.
Elise Brandt - DGT online informer No. 75
Manager Assistant - Kuusan Kino Ky/Studio 123 - Kuusankoski (Finland)
My career in cinema began at the age of six, when my family started running a newly-built cinema in our small town. Of course the whole family, kids included, was helping out and so I got to spend my childhood in a cinema environment, and naturally continued on the given path to my adulthood, learning the booth work and taking on regular shifts behind the counter at fifteen.
Of course ten years ago I told everyone who was talking about digital cinema that it would never come to pass. Too many controversies, and absolutely nothing can equal film. Those words have been taken back many times! Our three-screen cinema turned all-digital a year ago, over a period of three years. It has been a very eventful three years, and quite a learning curve! The whole industry has changed and is still changing, and we are determined to be on the frontline.
Not only have the distribution methods changed, but there is also a variety of alternative content to be had quite easily. We have shown documentaries and locally made movies, and started regular opera and ballet screenings last February, from the Royal Opera House in London. At first we were the only cinema in Finland showing their content but after some talks we agreed to act as a distributor for Finland for the same content and now in November there will be eight cinemas to join us and as more small cinemas find out that showing alternative content is actually not expensive or difficult at all, they will follow. We will also be showing a series of four Broadway musicals starting from November, which is something our audience have requested. At the moment we are, yet again, the only cinema in Finland to be showing this content.
In my opinion, a small town cinema (and why not all others as well) needs to be versatile. Not just movies, and not just showing them. What about a staff member masked as an ape and behaving like one, to take your ticket at the door for Planet of the Apes? Or a green lantern to sell your ticket to, surprise, Green Lantern movie? We have seen an outbreak of Smurf fever (symptoms include uncontrolled smiling, excessive joy in living and blue spots on facial area) and organized a Harry Potter event for local fans, complete with broom-flying lessons and getting the audience to shout a spell together to start the movie. With all this we want to make our audience expect something more than just the movie. We want to make them feel we are just as enthusiastic about movies as they are! Simply, we want them to feel more inclined to come back more often to spend their money having fun with us.
Also, there is the web. Social media, forums, new marketing opportunities but also high maintenance. To use such tools, we can't just put the information out there and start waiting. We need to be participating, selling actively. We are competing with so much, and we need to remind the audience that going to the movies is not only about the movie, it's about the experience that you cannot have anywhere else. Sadly, sometimes we need to remind ourselves to remember this as well.
As we reach out actively to new and existing audiences, we can help each other adapt to the change that's constantly going on. To that purpose, myself and a colleague of mine have opened an online forum for all those working in the field of making or showing movies, and anything that touches that field. As we move to the digital age, it's far better to do it together instead of each banging our heads on the proverbial wall one at a time. Someone's bound to find the door in that wall and let everybody else know about it.
Myriam Dassonville - DGT online informer No. 66
Corporate Communication Manager - Kinepolis
Digital Cinema: A Flexible Medium for Corporate Communication
The advent of digital cinema not only meant a tremendous advance in quality for the viewer. As a communication channel, this new medium offers specific opportunities which today are used only to a limited degree. The possibilities of digital cinema as a communication medium hold plenty of opportunities for the future, and this applies to my own department - Corporate Communication - as well.
Until a few years ago, we in Corporate Communication had to make do with what we today call the 'conventional' communication channels: printed media, analogue audiovisual messages etc. As the digitalization trend grew apace, we all eagerly jumped onto the bandwagon of electronic media. The volume of corporate communication messages which are transmitted by electronic means nowadays has taken on remarkable proportions.
With the extension of digitalization to the film medium, and since most of our Kinepolis theatres are equipped with the appropriate technology, a world of new digital communication possibilities has opened up. Both internal and external target audiences can now be reached. Digitalization not only stands for quality, but for flexibility as well, both in terms of the subject matter of the communication and the target audiences we have in mind.
The wide range of internal communication efforts can be extended to the theatres. A message from the CEO is no longer only disseminated over the Intranet. Today we bring our CEO to the big screen where he can address all colleagues in all Kinepolis theatres in all countries in a totally different context than on the small PC screen. Other internal communications, too, or even certain training courses, can be presented in a simple and flexible manner by audiovisual means in our own cinema halls, in digital quality.
For external target audiences, cinema appears to present an ideal medium. Viewers are accustomed to seeing commercials and informative messages before the film starts. Awareness campaigns, such as those on the prevention and sorting of waste, or informative clips, for example on the use of 3D spectacles, can easily be fitted into the programming by digital means. Commercials, too, are heading for a new future. They will be easily adaptable to the kind of audience that may be expected in the cinema for a particular film shown.
Digital cinema will create new communication channels and efforts. It is not beyond the realm of possibility that in the future press conferences will be held digitally in several theatres simultaneously. By broadening the product offer Kinepolis constantly attracts new stakeholders, such as senior citizens, minority groups, sports and music enthusiasts. The flexibility offered by digital cinema makes it highly likely that our future communication efforts will focus far more specifically on these different target audiences. Everyone who comes to one of our theatres will, more than ever before, feel in touch with a targeted communication which is released to the right audience swiftly, cost effectively and in digital quality.
Marta Materska-Samek - DGT online informer No. 65
Marta is thirty and since she was a teenager she has been connected to cinema. Being impressed by the mystery of cinema exhibition she worked voluntarily at the 36th to 44th editions of the Krakow Film Festival devoted to shorts. During her studies she won an internship at the Apollo Film Institution, where she was dealing with distribution issues. When she was on the Socrates Erasmus scholarship - Strasbourg (IEP Robert Schuman University), she applied for the Eurimages internship and during that time she deepened her knowledge of film co-production and as a consequence she gathered material to write a master's thesis.
After her studies Marta took a job at Apollo Film - the commercialized former national institution, where she was responsible for new media and marketing. In those times, there were very few people in Poland who knew what D-cinema was. One of them was Tomasz Maciejowski, CEO of Apollo Films. His dilemma was how to save Kiev cinema (Kijów), which is a place where famous premières and national film events have taken place. The history of the biggest cinema, which seats 828, started in 1967, when it was built and opened to celebrate the fiftieth anniversary of the October Revolution. The gigantic cinema screen (18m x 10m) showed such events as the world première of Steven Spielberg's "Schindler's List" featuring the cast and crew of the film. However, the increasing number of multiplexes constituted a threat to the cinema and hence resulted in the lack of 35mm prints for traditional cinemas to show films on their first run.
The natural solution was to introduce the D-cinema technology, but the problem was not only financing but also a lack of critical mass making the investment profitable. In 2005 Marta was leading a team, whose goal was to prepare a proposal for a call from SPO WKP 2004-2006 (a sectorial operational funding programme oriented to strategic investment in SME's). Despite being positively noted and approved, unfortunately, the project was put on a reserve list waiting for allocation, which never came. Finally in 2006, the cinema was equipped with a 2K Christie d-cinema projector, a Doremi server, a scaler and a 3D Xpand (former Nuvision) system entering the XDC lease agreement.
After this, the opportunity came up: the benefit of the synergy and scale effect due to creating a regional d-cinema network from the traditional, local cinemas. But it took four years to achieve this goal. Apollo Film, as a limited company, had no direct interest in support for sustainable film development because of its profit orientation; this is why in 2006 it established the Cinema Development Foundation. In January 2006 Marta Materska-Samek became the Vice President of the Foundation and a month later she was the happy mother of Maja Samek - her daughter. The same year the Foundation, prepared two crucial projects that received financial support. The first of them was Digital Days in the Kiev cinema. It was an international professional conference with seminars, screenings and trade shows on new technologies. The second one was a media literacy project "The Multimedia School" for fifty schools of the region. It consisted in introducing individual school programmes supported by ICT tools taking into account the influence of culture as a factor of human development. The budget was half a million Euros and the project was co-financed by the European Social Fund.
Meanwhile Marta was looking for an opportunity to implement the d-cinema project. In 2008 there was a call for proposals for the Malopolska Operational Program 2007-2013, Priority 3: Tourism and entertainment industries. It aimed at enhancing the tourist attractiveness of the region, so the digitization project focused on network creation as well as on the transformation of the local cinemas into tourist attractions. It thus aimed at the creation of "digital art houses" showing new product (alternative content), value-added product (3D and premières shown in digital with 5.1.Dolby Digital sound), combined products (weekends with sightseeing and cinema screening), cross-promotion (promos on attractions of the cities in the network).
In 2008 there were only ten cinemas interested in participating in the project and getting 75% of the project costs.
The Cinema Mirko in Krakow managed by the Cinema Development Foundation became a leader. The rest of the cinemas came from different towns in Malopolska with great cultural potential, whose population ranged from 14,000 to 60,000 inhabitants. They included the following:
Bochnia
Brzeszcze
Dabrowa Tarnowska
Kety
Krynica Zdrój
Limanowa
Oswiecim (Auschwitz)
Trzebinia
Wadowice
The project was submitted in July 2008. The selection process took 5 months and lasted until the end of December. Unfortunately, the project got first place on a reserve list, but by the end of March 2009 the allocation was made and on 9 May 2009 the Cinema Development Foundation signed an agreement guaranteeing Malopolska D-cinema Network structural funds for co-financing.
After the public tender procedure that took half a year, the contractor was chosen and on 12 February 2010 the Cinema Wisla in Brzeszcze showed Avatar 3D with a new NEC digital projector, Doremi server and Dolby 3D system. Since then there have been openings every weekend and the last cinema in the network (the Cinema Klaps in Limanowa) was open on 22 April.
The second part of the project consists in implementation of a regional platform helping the cinemas in the Internet aided marketing (CRM, newsletter, on-line bookings etc.). The project has also to meet the success indicators:
Up 1% on admissions per year
Diversification of the program (18 titles per year, every year up 20%)
New products (1per month)
Value added products (4 per year)
Complex product (3 per year)
Cross-marketing and cross-promotion (5 minutes before every screening)
Cooperation in the field of culture.
Marta Materska-Samek is a Ph.D. student at the Faculty of Management and Social Communication of the Jagiellonian University (Cracow). She is preparing a thesis on strategic innovation in local cultural institutions as a result of digitizing their cinemas. She was a graduate of the programme for young researchers Doctus and a Scholarship and Training Fund scholar who received a research grant (Action III- Individual Mobility Grants). The grant was devoted to the study of local cinemas in Norway. Being an experienced project manager and a specialist in the cinema management field, she works as a Vice-President of the Cinema Development Foundation and as a coordinator of the "Malopolska D-cinemas Network", which is co-financed by the structural funds of the regional D-cinema project in Europe.
Pilvi Burman - DGT online informer No. 64
FS Film Oy
DCP, KDM, NGB, OMG: how am I ever going to learn all this?

Those were my thoughts two years ago when I started working as Production Manager at FS Film Oy and found myself sending out 'DC Readiness Forms' to theaters that had started to digitize at an increasing pace. I had been taking care of 35mm print production and coordination for most of my working career with different distributors in Finland, but this was an unknown playground. Most of the terms on the readiness forms were beyond my understanding and I was on thin ice.

However, I was lucky, having been in the business for quite a while and having always had good contacts with the technicians dealing with the new digital equipment in theaters. At the beginning I could always call up one of them and they never seemed to get tired of even the most stupid questions. It was also comforting to know that my colleagues at other distributors were in the same situation as me. Sharing information has always been one of the greatest things we cherish in the Finnish film distributors' small community.

The terms DCP and KDM were totally abstract until I made an excursion to a projection booth to see what happens to the hard drive once it arrives at the theater and how a DCP and a KDM meet. It helps to understand things when you see them with your own eyes - even if it is something you don't need to learn how to use in practice.

Having learned from my own experience that the new terminology in a foreign language may seem frightening at the beginning, I have tried to be of help to theater owners in Finland who are trying to make their way through the jungle of readiness forms from different studios. I have also tried to be available for them if they have problems with receiving DCPs and KDMs. I have found it very important to have someone to turn to when you have a question and I must say that the people behind the impersonal title 'keymanager' have been very friendly and helpful.

Dealing with digital film distribution has not made me an IT-expert even though I have learned a lot. Little by little the ordering and production process of digital prints and trailers and KDMs along with the traditional 35mm material production have become routine procedures. This far I have ordered digital material from one major studio and one smaller studio. Within a year or so there will be more studios I'll be ordering digital prints from.

The people at the studios may also be dealing with a digital release for the first time in their lives, so it is good to remember that this is a learning process for everybody involved.
As soon as we think we know what we are doing, there will be a whole new ballgame waiting for us. Time will tell whether it is called SmartJog or something else.
Cara Jones - DGT online informer No. 61
Apollo Cinemas Ltd, UK
My name is Cara Jones and I work for Apollo Cinemas Ltd, based in the UK.
It is a very exciting time to be part of the Apollo group as we are in the process of converting the whole of our thirteen existing sites with a total of seventy-seven screens to Sony 4k projectors and Real-D 3D technology.
At the moment we are about midway through the conversion process and for the sites that have already received their projectors the results have been staggering. Admissions to these cinemas have risen substantially, dramatically improving their market share in their specific catchment area, and the market share performance of the company as a whole, across the UK territory.
My role in the Apollo organisation is as an assistant manager at their cinema in Rhyl on the North Wales coast. We are a small site with five screens and a total seating capacity of seven hundred and forty-three. My site is one of those still waiting for its digital make-over.
My main role within the management team (which incidentally is all female) is in the development of marketing strategies which will increase our customer base. With the rise of digital and in particular the increased popularity of 3D films the focus has shifted from increasing the flow of customers to purely trying to maintain current admission levels and persuade the local population that we are still relevant at a time when patrons are becoming more sophisticated and increasingly expect more from their cinema experience.
Rather than paint a gloomy picture of how we are struggling to compete with our competitors whilst waiting for our shiny new Sony 4k and Real-D equipment, I thought it would be more interesting to focus on the plans that we have for development so that when the changeover takes place, we can begin life as a fully digital cinema with a bang, living up to the expectations that have been placed on us by the company and by our local population.
So my current project is to prepare for the installation by developing a programming policy, rather than spending the time twiddling our thumbs, waiting for the digital projectors to be installed. We are therefore taking a pro-active approach to the digital conversion, planning and researching within the local community in order to ensure that, when we are digital, our programming policy will be attractive to the local population.
To do this effectively we have surveyed our current customers and, more importantly, potential customers as to what they would like to see showing at their new and improved local cinema. The results from the surveys were very enlightening, we saw that customers are most anxious for the installation of 3D so that they don't have to travel to see the latest blockbusters that are showing in 3D and can return to using their local cinema again.
There is a great deal of excitement regarding the variety of films that we will be able to show and we have had requests for Bollywood nights as well as independent films and foreign language films.
The ability to show classic movies has also created a stir within some sectors of the local community.
To cope with the variety of local interest we are planning to form film societies where the members can decide the programming by voting for the film selection that they want to see. This will work for us on two levels, by providing art-house films for a currently under-represented group of film fans and by guaranteeing that we have an audience for these movies. If the pilot film society works well then we can form other genre clubs, increasing our admissions and further widening our range of film programming.
Alternative content also seems to have captured the imagination of the local population and the prospect of live opera, theatre and ballet again appeal to customers who currently have to travel out of town to experience these productions on the big screen. For our alternative content customers we are planning to make it a night to remember, as close to the real thing as possible, with an opening reception, wine and canapés. I am currently speaking to local luxury food producers to try to secure their support and sponsorship of these events.
Digital will also enable us to show amateur films and we are lucky enough to have an extremely creative community with local groups who make films that highlight local issues and some that make films purely for enjoyment and to develop creative talent. We are excitedly talking to these groups and when we are fully digital one of the first things we want to do is to host a local film festival where these groups can showcase their talents and we can have our very own awards ceremony. This will then become an annual event and one that we hope will be an important part of the local community calendar.
As a town we are also trying to redefine tourism in the area and one of the ways we are looking to do this is by developing international links and holding cultural exchanges and festivals. Here again we are looking to play our part by hosting film festivals that coincide with these tourism initiatives and also provide our regular cinema-goers with the opportunity to see something a little different. I would like to use this opportunity to make a request both to the new friends that I met while in Helsinki and indeed anyone else reading this column; please can you take some time out to recommend films from your respective countries that could feature in possible film festivals.
I can be contacted by email at the following address: rhyl@apollocinemas.com Please mark all correspondence for the attention of Cara Jones. May I thank you in advance, for your suggestions.
My belief is that if we strongly involve the local community, they will reward us with their continued patronage and bring friends, because we can employ all the marketing tricks in the book but word of mouth is still perhaps one of the most effective marketing tools there is.
I would like to thank you for taking the time out to read this column and hope to see you next year at DigiTraining Plus to discuss how successful these strategies were for us and how we are coping in the brave new world of digital cinema.
Riitta Haapiainen - DGT online informer No. 53
SES Auditorium Ltd
The Finnish Film Foundation is an independent foundation which is supervised by the Department for Cultural Policy in the Ministry of Education.
The Foundation´s task is to support and develop Finnish film production, distribution and exhibition. The Finnish Film Foundation owns SES Auditorium Kino K-13, the cinema which is located at the Foundation´s headquarters in Katajanokka, in Helsinki.
Kino K-13 serves the Finnish film producers, distributors and post production companies as a test cinema. We have many opening evenings, especially of short and documentary films and television productions. We hold screenings of children´s films and film cultural events. Our cinema can also be rented and used as a meeting and congress facility.
Kino K-13 was renovated in 2008. It was given a real face lift: we changed the 1980 pink style to dramatic black and grey. Our new look was designed by architect Heikki Lamusuo and artist Jaana Partanen.
The same year, 2008, we also installed the digital projector into our booth, the 16mm film projector had to go. However, the 35mm projector Cinemeccanica, Victoria 5, is still beside the new digital one, although in our cinema the digital equipment is already working more hours than the film projector.
The digital projector we have is a Barco 1500 and the server store and player are Dolby`s DSS 100 and DSP 100. Just one week ago we got our XpanD 3D system.
Something about myself: I have been working in the cinema industry for a long time. I started my film work in the film lab, in the evenings I was selling tickets, coffee and candies in the cinema. I left the laboratory and found myself in the projection room, where I was very happy. I had, for example, the possibility to show 70mm film, and I felt like being on the top of my career … actually I still feel the same: that was the most challenging moment. This change to a digital system brings a whole different challenge: you don't need muscles for lifting the hard disks but knowing the data technology helps a lot. I took part in the "DigiTraining Plus" course in 2007 and it was very important to gain knowledge from the experts and meet colleagues who already had some experience of the new technology.
Here in the Finnish Film Foundation I started working in 2001, I am also the Managing Director of the Cinema, but deep in my heart I am a projectionist and very proud of my profession.
I myself and the Finnish Film Foundation warmly welcome "DigiTraining Plus 2010" course participants to our beautiful Helsinki.
Maria Costeira - DGT online informer No. 52
XpanD Cinemas, Slovenia - USA


As a theatrical entertainment professional, I am aware that digital cinema is one of the greatest technological accomplishments of the 21st century and I'm delighted to be working during these evolutionary times. Early in my career, while in Portugal, I observed that, eventually, cinema exhibition would have to change and adapt to meet new trends and a more technology-driven generation. Since then, everything has changed, from filmmaking techniques, production advancements through CGI platforms and special effects to an ever-demanding audience who expect both inspiration and excitement. Having the desire to deliver the best cinema entertainment possible, I brought my vision to Ljubljana, Slovenia, where I became part of the Kolosej group, which, at that time, was a small exhibition company with only incremental expansion. In 2004, we proceeded to start driving the digital future by establishing and promoting 3D as a mainstream platform and created XpanD™, now a world leader and one of the largest suppliers of 3D systems, which uses the unsurpassed active shutter glasses technology, with more than 2,000 locations globally.
Launching the first ever, all-immersive sensory 3D theatre, known as XpanD X6D, at the Kolosej entertainment complex in 2005, the theatre was enhanced with digital projection, aromatic and motion sensory applications and was presented in the large-screen format. In the years that followed, four more 3D digital screens known as XpanD X3D (without sensory/motion), capable of showing premium Hollywood content were launched in the region and for a small marketplace XpanD has significantly helped to improve the per capita digital screen count. By 2011, we estimate there will be at least four more installations to support the full charge of Hollywood 3D releases, in addition to securing the distribution of 2D digital titles already on the market.
Simultaneously, by deploying and testing our new 3D digital immersive cinema products on the Slovenian local markets, we've become a major global player in the field of digital technologies. Through the acquisition of a production facility in the US (Portland, OR) which, produces the active glasses technologies and an array of other 3D applications, we have traversed into the consumer markets, whereby XpanD has fast become one of the biggest names in the world of digital entertainment.
The XpanD brand was uniquely created and supported by a predominantly female team of professionals. From marketing and sales, to programming, content distribution and other various auxiliary services - the women have been at the helm. I can't emphasize enough how the business of cinema, in all its aspects, is more suitably adapted to the female approach and philosophies. I'm extremely proud of our accomplishments at XpanD, and being able to endorse the company through our female professionals is a testimony to any business endeavor - especially the cinema business. We have proven that women's specific skills and attention to audience demands are what is needed for great success!
Tarja Piiroinen - DGT online informer No. 51
Savon Kinot Oy, Finland
I run a cinema circuit, Savon Kinot Oy, with my four siblings and our company is a genuine family business - our father started his career in cinemas in 1945. I have been working in cinemas since I was ten and my current position in our company is the Head of Programming.
Our company is the second biggest cinema circuit in Finland, though our market share is only 4% (2008) whilst the biggest operator, Finnkino Oy, holds 70% of the market. We are operating in six towns in Eastern Finland and we have seven cinemas there with 12 screens altogether.
Only one of our screens is digitalised up to now; it's in our latest cinema in Joensuu, where we had the chance to add a digital projector alongside a traditional 35mm projector in the biggest auditorium of this miniplex. It's crucial to have at least one more screen there digitalised in the near future, because of the programming. In this current situation, we still need a 35mm print when the movie shifts to the smaller auditorium.
3D was the main reason for us to start digitalisation in the first place; the audience will see the technical developments best in 3D form and 3D films are selling more tickets than traditional films. I think 3D has brilliant possibilities to get us more customers and widen the content in cinema programming.
In digitalisation we also have a challenge in our older cinemas. They are built - especially the projection rooms - for the use of 35mm projectors. There's simply no room for an additional projector in the old projection rooms, and abandoning the 35mm projectors is not an option yet, especially in smaller towns and cinemas.
Not having any VPF system in Finland, we are lucky to have the Finnish Government to give financial support to digitalisation in cinemas. Even with that support the smallest cinemas have to face the fact that the investment that digitalisation requires may never be covered by the profits from their ticket sales.
Francesca Piraccini - DGT online informer No. 50
Cinema Eliseo Multisala, Cesena (Italy)
For around 15 years I have been managing the Cinema Eliseo Multisala in Cesena, a town of 90,000 inhabitants in the heart of Romagna, about 90 kilometres from Bologna. It is a fine building in the old part of the town and comprises four screens devoted to both commercial and art-house movies, seating a total audience of 700, with a hospitable Cinecafé where aperitifs and tea can be sipped whilst browsing through film magazines and books on the cinema, as well as an inside bar with popcorn and liquorice. Equipped as a polifunctional centre, it is able to host conferences and multi-media events. The venue was opened by my maternal grandfather in 1949, then altered to house two separate screens in 1992 (one of the very first in Italy) and later completely restructured in 2006 and equipped with a first digital projection installation - consisting of a Christie projector, Doremi server and 3D XpanD system - in August 2009.
I chose to entrust the digitalization of the theatre to Digima because of the competence and professional attitude I encountered right from our initial talks and I am satisfied with the results achieved to date: the screening quality is truly excellent and the 3D really does give audiences emotions and a higher level of involvement compared to normal projection techniques. We are also equipping the theatre to screen live alternative content via satellite, in the hope that these events will bring a different kind of audience to the cinema, even though we are aware that communication strategies and investments will be essential in order to promote a product that is so different from our usual programming. However, the experience of other theatres and above all of other European countries, well documented at the valuable courses organized by MEDIA Salles, that so usefully compare the experiences of professional players from different European countries, shows that "It can be done," and so FULL SPEED AHEAD!!
Giorgia Guarino - DGT online informer No. 49
Attività Cinematografiche s.r.l.
I manage three single-screen cinemas in my home town of Sassari, in Sardinia, Italy. I can say that I have inherited my passion for cinema, which has been passed on to me by my father, together with my passion for this work, which he started as far back as 1960.

Since 2008 one of my cinemas, the Moderno, has been digitalized and in 2009 it was also equipped for screenings in 3D.

I think that it is very difficult to be a cinema exhibitor nowadays, in a market dominated as it is by the big multiplex circuits, but I believe that investing in new technology is an essential and important step: that's why I have taken it with great enthusiasm.

In particular, I was struck by the potential for alternative content offered by the new equipment. The possibility of screening operas, concerts and so much more allows our cinemas to become poly-cultural centres, as well as to attract segments of the general public who would rarely visit our theatres otherwise. In fact, for over a year now, I have embarked on the OPERALCINEMA project - screening both live and recorded operas through the Microcinema circuit (an Italian distributor not only of content but also of digital equipment) - which has met with great consensus, both from audiences and from the critics.
Further satisfaction is coming thanks to 3D. This was inaugurated with Ice Age 3 and, as well as a 40% increase in spectators, I have had the pleasure of seeing audiences enthusiastic and content with the new product.

I must confess, however, that I am not at all satisfied with the way that the digitalization of exhibiting theatres in Italy has been managed. Whilst I understand the problems faced by our professional association, Anec, I find it absurd that we do not yet have a Virtual Print Fee system. This has meant that up to now my colleagues and I have had to shoulder the costs of the entire investment.

The unique feature of Italian cinema exhibition has always been the presence of many small businessmen who, like myself, have believed and invested in the cinema but I am of the opinion that, if something is not done soon to support us, we shall be obliged to succumb to the big multiplex circuits.
Ksenya Leontyeva - DGT online informer No. 48
Senior Analyst, Nevafilm Research
I took up the post of analyst at the Nevafilm Company in the middle of 2006; and that year saw the beginning of the digital era in Russian cinema exhibition.
The first permanent commercial digital screen was opened on 26 October 2006 in Saint Petersburg: it was situated in Zanevsky Kaskad cinema and equipped by the Nevafilm Cinemas department. For several years previously our company had been making great efforts to prepare this event: from explanations about what DC is (we opened a website www.digitalcinema.ru) up to the equipping of the first temporary digital screens (even with 1.3K resolution) as far back as 2003-2004 in Moscow. So, I was very proud to join Nevafilm during such an important moment.
As I am a researcher, first of all I am in charge of monitoring the Russian cinema exhibition market: we count the number of 35mm and digital screens in the country. I also keep in touch with the exhibitors and record their successes and difficulties. In addition, our research department supplies advice and draws up analytic reports about the current situation in the Russian exhibition market in the pages of our quarterly magazine Cinemascope, which I publish as chief editor, and at our site (www.nevafilm.ru).
I am very glad to be a part of the Nevafilm Company, which promotes the deployment of digital cinema in Russia (not only with the help of the research and equipment departments, but also by means of the digital cinema laboratory and distribution of alternative content). Sometimes I regret that the time of 35mm copies is coming to an end: it was a very romantic epoch. However the new digital age must be no less interesting than the age of 35mm and will bring boundless opportunities for the creative work of cinematographers.
Judith Michel - DGT online informer No. 47
Content Services Sales Manager, XDC International
I joined XDC in fall 2008, but I have always lived with cinema, since my father is a film director and my mother is producing films.
I am responsible for all matters related to content. On the one hand, I am in charge of our Digital Content Lab, making the price quotations as well as informing Distributors, Producers, Sales Agents about digital cinema. To date, there is still work to be done in order to inform more about the digital workflow. Digital represents a major change for smaller companies, and it is necessary to spend time explaining the advantages of going digital and to assist them from scene to screen. We are currently working with many distributors all over Europe and every day there are more clients showing interest in this new and better way to release a film.
On the other hand, I am responsible for meeting all European distributors regarding the VPF model. Last year we signed agreements with the 6 major studios in order to co-finance the digital roll-out of maximum 8,000 screens in 22 countries. That means that, in four to five years, digital will become a standard for films. In fact, we will also need the support of independent distributors. My role is to explain to them how this model works, and why it is important to switch to digital. We have already started this roll-out in Austria, so it is important everyone knows about the VPF.
I really enjoy this new challenge. Working with XDC is a great opportunity for me since I can contribute to a fast-growing company within a nice business area, a perfect mix between technology and entertainment!
Lene Løken - DGT online informer No. 40
Managing director FILM&KINO
Testing the future
Exhibitors all over Europe are discussing Digital Cinema. What will the future for the film exhibition industry be? What will the costs for the exhibitors be? What sort of commercial opportunities are there? The questions are unlimited.
In Norway we have decided to run a test. Two digital projects with 22 DCI-compliant screens were established back in 2006. They were followed by 12 more screens in 2007. Each of the two projects is organized as a consortium, Nordic Digital Alliance (NDA) and NORDIC. The two companies Arts Alliance Media (NDA) and Unique Digital (NORDIC) are central partners. The projects are supported and evaluated by FILM&KINO, the national cinema owners organization.
These pilot projects are testing:
• technical issues, such as interoperability, automation, functionality and moving of equipment;
• organizational issues: how can the bigger cinemas in a region support the smaller ones?
• workflow issues: how does the process from distributor to cinema function?
• digitizing of multiplexes: how will the programming function and what about alternative content and revenue?
FILM&KINO is planning the future digitization of Norwegian cinemas. We support and evaluate these pilot projects in order to develop a knowledge we think will be necessary in the future. The more we learn about managing a digital cinema, the better we will be able to carry out the big project which is to digitize all the Norwegian cinemas within one and the same process.
Norway is a small country with a scattered population of only 4.6 million inhabitants. We have 229 cinemas with 426 screens and a travelling cinema with 236 sites. Most of the cinemas are small, due to the population in rural areas, and they are owned by the municipalities. They will never have a chance to be digitized the commercial way. But they are, on the other hand, very important to their communities. Small Norwegian cinemas often have a function also as a community house. We generally call them cultural houses and they are in fact a meeting place for the local people.
Due to the importance of the small Norwegian cinemas there has been political willingness to support the digitization process. The National Assembly (Stortinget) has allowed the use of a fund, managed by FILM&KINO and based on a fee on cinema tickets and DVDs, to finance part of the digitization of the Norwegian cinemas. The supposition is that the distributors take their part as they would have done through a VPF (Virtual Print Fee) in a commercial system.
We are negotiating the terms with the studios in Hollywood and planning for a roll-out starting in 2009. There are still lots of questions to be solved and I think we have a long way to go. But in the meantime we are testing out the future through two pilot projects which have already shown themselves to be of great value.
Elisabeth Berradouan - DGT online informer No. 38
manages sales operations for France and Southern Europe (Italy, Spain and Portugal) at XDC.


"I have over 18 years of experience in the fields of image and new technologies. In the 90's, I started with Barco as Key Account Manager. In 2001, I moved as Head of Digital Cinema, responsible for business development and sales of Barco D-Cinema solutions first in France and then extended to Spain, Portugal, Switzerland and Luxembourg. Before working for Barco, I spent 5 years as Sales Executive in the luxury sector. I hold a BA in Literature and I speak fluently French, English, Spanish and Portuguese and I have a working knowledge of Italian. My multilingual skills are of course a strong asset for my present position at XDC. I'm glad to have been retained by XDC to assist them in their expansion in France and Southern Europe. XDC is already servicing over 350 screens in Europe. I'm contributing to expand the activities in Southern Europe. My main duties are to present the XDC business proposal to the exhibitors and to explain them why XDC is today the best choice to go digital."
Nancy Fares - DGT online informer No. 37
Business Manager, Texas Instruments DLP® Cinema Products
Eye balls and Euros - Digital Cinema is at the end of the beginning and primed for growth
I am the Business Manager for DLP Cinema® Products; my role includes product line responsibilities, Profit and Loss (P&L), product marketing and overall strategy for the DLP Cinema® Products group. This year marks the 10th Anniversary of DLP's entrance into the cinema industry, with the first fully functional and Hollywood endorsed digital DLP Cinema movie projector. After years of prototypes, in 1998 DLP delivered Hollywood's biggest image critics and cinematographers with a digital projector that met the world's highest standards on colour, brightness and reliability and therefore pioneered the digital cinema concept. A year later, in 1999, the studios released the first movie in digital format on DLP Cinema, which was Star Wars: Episode I - The Phantom Menace. DLP Cinema honours the heritage of the ultimate viewing experience while incorporating the latest technology innovations, such as the 3D single projector solution and cutting costs for cinema exhibitors, distributors and ultimately the consumer.
As we celebrate our 10th year in the film industry, DLP Cinema projection technology is installed in over 6,000 theatres on every continent except Antarctica. Today there are more than 1,200 theatres that offer the digital 3D experience powered by DLP Cinema technology, and this number will continue to increase as more DLP projectors are deployed globally.
It was over ten years ago that Texas Instruments and other companies began working on digital cinema and today we've reached the point where we have a viable market. While a little less than five percent of the world's cinema screens have been converted to digital projection, it is fair to say that we have now arrived at the end of the beginning. Of the early adopters, approximately 75 percent of digital cinemas are in North America, with the rest split between Europe and Asia. It's been a decade in the making, but we are finally past the point of beta testing and committees deciding standards.
It could be argued that the slow take-up of digital projection technology has been due to the need to agree to standards, to test equipment, and so on. However, it's more likely that the primary reason why the pace of product development in digital projection technology has been slow is because the true cost and benefits of digital cinema to the main interested parties - equipment manufacturers, film distributors and exhibitors - are not reliably known or properly understood. The lack of solid facts about the economics of digital cinema has led to a very long game of poker. Such games aside, the long term picture looks rosy for exhibition, distribution and equipment manufacturers. Ultimately, it will become more viable to show movies to much larger audiences since digital prints cost less, require less handling, and offer far more flexibility in programming.
For exhibitors as a whole, there is also the prospect of higher revenues from sources such as alternative content and the 3D revival. In addition, it has been suggested that potential gains exist from programming content by daypart and by demographics. Many would argue that targeting audiences throughout the day will also increase revenue thanks to the ability to deliver relevant advertising messages to the changing demographics.
Regardless of studio incentives and deployment plans, d-cinema installations will certainly heat up in 2008, as there are many more digital 3D titles in the production pipeline. In fact, there are expected to be 12 to 18 3D movies by 2010. Whether 3D exhibition is a novelty, or becomes part of mainstream cinema for the foreseeable future, the increased box office results make the exhibitor's conversion a more local, immediate and understandable business decision. And some exhibitors are not waiting; the recent announcement of Odeon UCI regarding its intention to install 500 3D systems over two years is explicitly targeted at the high-profile slate of 3D movies in the pipeline.
The problem in the minds of some is whether 3D is just a gimmick or something that is actually an artistic aspect of cinema. At ShowEast 2007, Jeffrey Katzenberg, CEO of DreamWorks Animation, stated that moviegoing is going to become more exhilarating in a way never-before-seen thanks to digital 3D technology. The idea is that the audiences will be pulled into the film, instead of reached out to, which was the "gimmick" idea that 3D originally started with.
Although many predict the number of 3D screens around the world will reach nearly 5,000 by the end of 2009, Katzenberg is predicting that 6,000 3D-equipped screens will be installed by March of 2009. Katzenberg boldly stated at ShowEast, "[3D] is going to be the majority of your business" in the future. In addition, Katzenberg strongly believes that consumers will be "excited" to pay a premium for an exceptional quality product. Time will tell, but there is no debate that digital 3D is not a gimmick. And without a digital cinema system, you will miss the chance to see if he's right.
The central problem in the adoption of digital cinema technology has been that the technology initially shifts costs from software (reels of film) to hardware (digital files). This immediate problem has tended to overshadow larger benefits of digital technology everywhere. Interestingly, the conversion is estimated to cost approximately $8 billion or only 32% of the worldwide box office last year. Nevertheless, an immediate problem demands a solution and one is the Virtual Print Fee (VPF) model widely adopted in the United States. Locally, CGR Cinemas (France) is the first European exhibitor to sign up to a VPF-based rollout with one of the three major integrators. However, there are other financing models in the market, including exhibitors who have spent their own money to reap the benefits of digital technology.
Regardless of the business model, there is a great appetite to accelerate digital cinema deployment in Europe. Compared to the US, the European market is more complex and consequently the ability to set up a deal has been made more difficult by multiple languages and more complicated relationships. In addition, the European market is more fragmented. It has one of the largest populations of smaller and remote cinemas. In October 2007, the European digital forum announced completion of a study that found the average cinema screen in Europe to be slightly more than 26 feet wide or less, with seating for 180. As a result, there is train of thought that the full Digital Cinema Initiatives (DCI) specifications are considered "excessive" and another standard for smaller theatres and specialty markets should be considered. Although this could solve specific problems such as antiquated cinemas in rural areas, it is not a viable solution in the light of the loss of revenue from piracy. Perhaps instead of playing poker, it might be time for all the parties to sit down and hammer out a solution.
Looking forward there are still some big uncertainties regarding the future impact digital cinema will have on the industry. Digital Cinema is a relatively small market in which a few deals can make a big difference. It is likely, within the next couple of years, that one or more large exhibitors will decide to go it wholly or partly alone.
Although it is possible that the forecasts will be exceeded, the peak adoption of the new technology will fall in the period just after that covered by the five year forecasts you see rather than within it. If this is correct then half the world's cinema screens could be digital by 2013, compared to a third in 2011, and five percent today.
As members of the Entertainment industry we need to step back and realize that we are all facing hyper competition on patrons' time and entertainment budget. Let me say it simply, we are at war against all other forms of entertainment for "eye balls" and Euros! We need to be diligent and serious about bringing and keeping our patrons in our movie theatres. Better content or product on screens, a better experience at the movie theatre, and the conversion to digital quality movies with the emerging 3D and alternative content, are some of the tools we have available to us to fight with. We need to get serious about enabling the transition to digital cinema. The cost of projectors, in the long run, will not be the limiting factor for our success, but rather our limited vision of the competitive threat we face. Digital projectors will get cheaper and are going to be very easy to use.
Reduced costs in delivering movies to cinemas means that more movies will be brought to cinemas, to improve the choice available to consumers, to take advantage of the dead spots created by current programming practices, and so on. These changes also mean that there will be more cinemas...thus more choices for consumers. Probably not more megaplexes showing blockbusters, but more small cinemas showing a greater variety of movies to smaller audiences.
Probably these cinemas will be a little more expensive to attend, and have fancier concession products, because they will not have the same economies of scale as multiplexes and megaplexes, but they will be nice businesses to own. Both these types of development and the competitive threat we face, will create a need for more sophisticated customer relationship management techniques, as well as better marketing. Not too long ago, CRM in exhibition could have been satirized as largely consisting of a distributor herding customers in on the back of saturation marketing campaigns. In the cinema of tomorrow, alternative programs and special events mean exhibitors will have more control and more input into the success of the industry.
Ten years in and most of the fog and confusion around digital cinema has, at last, blown away allowing the path ahead to be viewed with relative clarity. Who would ever have thought it would be that "simple"!
Sara Crimeni - DGT online informer No. 36
Digima, Italy
When Elisabetta Brunella of MEDIA Salles asked me to write an article about Digital Cinema, from my point of view and what my sensations were, the first words that came to mind were transition and opening of a new era. Working in this sector, we have the clear sensation that, after many years of "technological stagnation", something of great importance is about to happen in Italian cinemas, thanks to the evolution in the equipment, the working methods and the way we are now considering these new movie theatres.
They are the same sensations and changes that encouraged me to take up this challenge of working with Digima, a company active in the electronic and digital cinema field since 2005, which has the objective of advancing film and theatrical shows (lyrics, theatre, concerts, dance) in digital movie cinemas or halls such as municipalities and cultural communities. Digima has created and patented a technological platform for the booking, transmission and final projection in movie houses via high-speed internet access and has made arrangements with Italian distributors to provide the digital contents.
Collaborating as sales manager with the dynamic team at Digima, my primary objective is to advertise the Digima brand, make its image known throughout Italy and expand its network of digital cinemas. There are many tools I use to accomplish this, which can be summed up as follows:
Direct meetings with the target audience for demonstration of the Digima system
Management of marketing and communication of the Digima brand through direct market campaigns, coordination with the press and management of the content on Digima's portal
Organization of events and informative meetings with exhibitors, distributors and producers.
I believe it's extremely important to hold these encounters/events with exhibitors, in which the transitional phase mentioned above can inevitably be a phase of confusion with much information provided, not all of which is correct. It is for this reason that we have decided to organize a Road Show Digima in Italy, for all of 2008 (roughly 2 stages per month) in which, with the help of experts in the sector and direct experience with exhibitors, we will spread the technical information and concepts clearly and comprehensively.
I have come to understand that, even before selling, it is of utmost importance to inform these exhibitors and "accompany" them in this new digital world: it may seem obvious but, in reality, not everyone knows the difference between electronic cinema and digital cinema, between 1,9 K and 2 K or how to manage a key, etc.
I also manage the programmes of the cinemas on our network and support them with promotion directly to the general public. The response we have received and the results we have reached from these promotions have been very satisfying, especially with the alternative digital contents such as Opera. We did have difficulty at first with some exhibitors, but I managed to involve them in these promotions, through direct contact with associations in the sector, local cultural authorities and music schools: the final results were exhilarating...we were able to invite numerous people of all ages. This demonstrates the natural evolution of modern digital cinemas which will inevitably bring diversification in the provision of contents and the creation of specific audiences through ad hoc promotions.
I do not deny the difficulty I encounter every day in my work, in an innovative and difficult market such as Digital Cinema, but there is always the great enthusiasm of being part, even in a small way, of this important phase of transition in Italian cinema.
Sara Crimeni graduated in 2001 in Public Relations at IULM in Milan, and during the same year she gained a Master in Human Resource Management and New Technologies. She accumulated a five-year experience in education and training and as a conference manager working as a Training & Conference Manager first with the Gruppo Editoriale Reed Business Information and then with the IIR - Istituto di Ricerca Internazionale.
Gemma Richardson - DGT online informer No. 30
Sales and Marketing Director
Arts Alliance Media
I have worked at Arts Alliance Media (AAM) for just over 2 years now. It is remarkable how much has been achieved in that time, compared with my past experience with a similar kind of analog-to-digital conversion challenge - the theatrical digital sound format war back in the 90's. I spent six years battling away on the launch and worldwide rollout of Sony Dynamic Digital Sound (SDDS). Working in a large corporation is a great character-building experience! I remember the layers upon layers of management across continents, resulting in stifling bureaucracy and internal politics that often suffocated the innovative spirit and sheer determination needed to take on a technology revolution.
AAM is the antithesis of that world. It is a privately-held company, founded by an innovative entrepreneur in 2003 to build a pan-European digital entertainment network. Equalitarian in structure, AAM is run by empowered employees throughout the company. There is a great energy in everything we do. The idealist in me thinks that perhaps this is what Sony was like in its formative years during the aftermath of World War II, under its founding visionaries Masaru Ibuka and Akio Morita.
There is nothing like seeing a great film on the big screen, with fantastic picture and sound and being totally immersed in the experience. This is the best and ultimate way to see movies. AAM is committed to working with exhibition and distribution to reinvent cinemas into high-end digital entertainment centres. Cinemas need smart, fast-moving and reliable technology and content partners, like AAM. Cinemas are competing not only with sophisticated, affordable and convenient home viewing options but also with increasingly popular mobile platforms. Unique cinemagoing experiences like 3D movies and alternative content on the big screen are pulling in cinema audiences and often with higher ticket prices. 3D is even a defence against piracy. Now, more than ever, upgrading to digital cinema is a must. AAM is the only company in Europe with a viable and transparent business model for widespread digital cinema rollout. To date, five major studios - Twentieth Century Fox, Universal Pictures International, Paramount Pictures International, Sony Pictures Releasing International and Walt Disney Studios International, have signed long term agreements with us to support our DCI compliant digital cinema deployment with a guaranteed supply of digital films and with financial contributions (Virtual Print Fees) for up to 7,000 screens across Europe. CGR Cinemas in France were the first European exhibitor to jump on board last December and we are currently converting 100% of their 400 screens. Negotiations are ongoing with other exhibitors and distributors and further announcements will be made shortly.
Recently, we have been focusing on developing our alternative content business. We are sourcing, content managing and distributing concert events, music-related documentary films and opera. So far, the biggest challenge seems to be how to reach audiences and to convince them to go to the cinema to watch this type of entertainment. Undoubtedly, opera is a big hit and is even bringing people back to the cinema that haven't been for years. We are distributing a La Scala opera series in the UK and Norway until the end of June 2008, after which we will be working with the world-renowned Royal Opera House and Digiscreen Corporation to bring the incredible performances from the Royal Ballet and the Royal Opera to cinemas across Europe. AAM will be responsible for cinema exhibitor booking negotiation, digital print services and security, live event project management, as well as comprehensive marketing and public relations support. There is much to look forward to and I am very excited to be a part of it.
Frauke Feuer - DGT online informer No. 28
Peacefulfish
When the lights go off, that's when the magic begins. This anticipation of the roughly two hours that are to come filled with great emotions, stunning images and engaging stories, is one of my dearest moments of the cinema experience.
The experience of going to the cinema is at the core of a current project called "Digital Alfie" that I'm managing. The aim is to identify and select services for the cinema goer and the exhibitor that are digital and are empowered by digital cinema technology and that open up new sources of revenues as well as savings. What excites me about this project is that what sounds reasonable and promising in theory, will actually be put into practice and hence be truly evaluated. Testing concepts in real life settings has continued to fascinate me ever since I did an evaluation of an e-learning software on film language at a private school in London. No matter how thorough your research was or how clever the ideas, you'll only know if it works once you go out there and make it happen.
About 18 months ago, our team at Peacefulfish decided to spend considerable effort and time on investigating the issue of financing the digital roll out not from an industry top down point of view, but from the customers' point of view. What would actually change for the cinema goer through digital cinema technology?
The most immediate answer was: not much. Through the UK Film Council's Digital Screen Network it already emerged that people either didn't notice a difference or had assumed that cinema was already digital. So the impeccable and lasting projection quality alone is unlikely to reignite the passion for cinema for the masses. Hence Peacefulfish, in cooperation with the Lapland Centre of Expertise for the Experience Industry, set out to conduct a study (focus groups and expert interviews) to find out more about the cinema experience and what the digital cinema experience could be like ("The Digital Cinema Experience", ISBN 978-952-5585-61-1, www.dodona.co.uk/experience.htm). Part of our conclusion was that for many people, customers and experts alike, the cinema, in theory, is still the best place to watch movies due to the big screen, the superb sound quality and the genuine atmosphere of this dedicated place. However, in reality many people are less enthusiastic about their local theatre.
There are many reasons why this is the case - the film selection on offer isn't attractive, the venue itself is found to be not appealing or not well maintained, the other members of the audience impede the experience through disrupting behaviour, there is no option to extend the experience at a bar or café after the film has finished, etc. At the core of all these issues there are three main factors: the content, socialising opportunities and the venue. So ideally, your venue would be in easy reach for your patrons, it would show a range and number of films that appeal to them, it would offer space and the right atmosphere for them to gather before and after the screening to socialise and share the cinema experience. Now, where does digital come in?
The beauty of digital becomes clear when looking into this ideal scenario in more detail:
"show a range and number of films": possible through digital distribution - the number of copies of films that a cinema can use in one week can be significantly higher than it used to be, also more titles will be available;

"that appeal to them": How do we know what appeals to our local audience? Using customer relation management tools will help to profile your local audience and facilitate programming that matches their needs and demands;

"offers [...] the right atmosphere": start a dialogue with your customers. Find out what they expect from the cinema, from a film, if they would like more information or support, if they have trouble finding certain DVDs or soundtracks or merchandising - take a look at the whole picture of film experience if you want to increase the esteem of your venue as a place for cinematic experiences that make a difference.
The new quality that digital brings is that interactivity, so important in any demand, supply relationship, that is now available for both parties at a fraction of the cost and effort it formerly was. In other words: it has never been so easy to get to know each other. The social component is very much a physical one. It depends if there is space in your venue where a bar or café could be established. Even if there is not, it might be worthwhile looking into partnerships with appropriate venues that are close by. What such services regarding all three factors can look like in detail - that is exactly what the "Digital Alfie" project develops (further information at www.digitalfie.com).
The bottom line is that going digital demands investment, not just in terms of finance but also in terms of concepts. There are already a lot of brilliant ideas out there, what we need to do is bring them together and create a concept that fully uses the potential of digital cinema and digital technology. And then putting it into practice - I can already feel the anticipation rising...
_________________________________________________________________
Frauke Feuer has been a consultant at peacefulfish for over two years, specialising in digital cinema and film financing. Being one of the best 10% of her year, she holds a master's degree in Applied Media Science from the Technical University of Ilmenau, Germany, and a master's degree in Film and Moving Image Production from the Northern Film School, now part of Leeds Metropolitan University, UK, where she trained as a director before starting to explore the world of digital cinema and film financing.
Rossella Gambetti - DGT online informer No. 27
Catholic University of the Sacred Heart, Milan, Italy
In academic studies of business and modes of business communication the challenges to cinematographic communication arising from the adoption of digital technology are considered with a cautious attitude but also with great interest.
The cautiousness is linked to an awareness that the paths of development, affirmation and wide-scale spread of the new information and communications technologies (including digital), which in the recent past have underpinned the appearance and evolution of the new and net economies, are characterised by far quicker timing compared to the time involved for the needs, expectations and competences of the potential target users to mature. This has regarded and continues to regard the application of digital technology to television, which has recently seen the development of a wide-ranging debate in Italy both on the advisability of improving television viewing offered by digital cable and on its potential spread in the medium term. The slow penetration of this technology in Italy is, in fact, demonstrating that there is more need for caution than ever when it is a question of such radical innovations, capable of making an impact on the cultural dimensions of a country and on its capacity for technological modernisation.
The great interest is connected to the considerable potential for competitive differentiation and gain in spectator loyalty, both offered as examples for the adoption by movie theatres of digital projection systems.
I teach corporate communications at the Catholic University of Milan and ever since discussing my thesis on strategies for building and communicating the identities of movie theatres in order to improve their competitive edge in their territories, I have always kept a particularly keen eye on developments in the cinema sector and, in particular, on innovations concerning exhibition. This is because of the wealth of research opportunities arising in connection with some of the main and more recent themes in company communications, such as: the construction of unique and memorable theatrical viewing experiences, the management of cinema-going as an event, the implementation of a cinema brand policy, integrated communication of the theatre's offer.
Recently, these themes have been joined by that of the spread of digital technology in movie theatres. An issue that obliges those who study corporate communications to reflect on two different aspects and two different motives for research. On the one hand a need is felt to investigate the real added value implicit in the offer of digital projection and the possible impact of this technological innovation on the systematic perception/evaluation and cinema-going behaviour of spectators.
On the other hand, we need to define the most efficient and effective strategies possible for communicating the added value of digital projection and of the cinema itself.
The mere installation of digital projections systems is not enough to produce a competitive edge for the movie theatre: the technological innovation must be adequately supported by an intense and targeted promotional policy that will make spectators aware of its potential and of the differentiation of offer and provision of a unique and memorable viewing experience, leading them to appreciate it.
In particular, the challenge of a promotional policy consists in the "promise of quality" offered to spectators by the digital movie theatre. An all-encompassing quality regarding not only the technological aspect connected to the type of sound and vision experience made possible by digital projection, but also involving the whole range of services the theatre offers its spectators.
In connection with this, and in the context of my teaching, I have recently launched a research project, in collaboration with MEDIA Salles, that draws on contributions from theses by some of my best higher-degree students, analyzing the impact of adopting digital technologies on a significant sample of digital cinemas in Italy and on a sample of theatre-goers. More specifically, the research project aims to investigate the following aspects:
with exhibitors, the effects of digital projection on the distinct characteristics of the theatre's offer, on the main business results achieved thanks to digital projection and on the communication tools used to make known its existence and potential;

with spectators, the motives for choosing to watch a digital projection and the evaluation of of the overall quality of the digital viewing experience.
I believe that the results of this research, even if just in its initial phase, can offer interesting ideas for enriching the debate on these issues.
Dr.Rossella Gambetti is Assistant Professor in Management at Milan's Catholic University of the Sacred Heart, where she teaches "Economics and techniques of Business Communication" and "Audiovisuals in Business Communication".
Silvana Molino - DGT online informer No. 26
Microcinema, Italy
Microcinema was founded in 1997 on the initiative of five founder partners and the technological support of the RAI research centre in Turin, to study and develop digital cinema in Italy. Today Microcinema is a reality that manages content for cinemas, in areas that are currently not "served" by premises and/or by products. It also offers new services through digital technology and bidirectional satellite transmission, such as: live events, remote systems control and maintenance, automatic invoicing of royalties by means of the ticketing system, and, most of all, it turns the cinema into something more flexible, usable / user-friendly, open and closer to the real needs of users (owners and public).
Silvana Molino was born in 1974 in Turin, to a couple of great parents and with the logistic support of two fantastic brothers. Today she is the chief financial officer and head of network relations for Microcinema.
Microcinema and Silvana came together in December 2003: a very cold winter and love at first sight!
From that moment on, the story has been a crescendo, starting from a single note and becoming a symphony, an aria, the sound of opera which, from Pordenone to Bari, crossed Italy on April 20th 2007 on the satellite connection that Microcinema had set up as the first Italian bidirectional digital cinemas network.
"Personally, I took up the challenge of demonstrating that digital cinema management is possible and economic if it is run as a network: digital projection is the only choice for small and medium exhibitors and it is the only chance for interesting independent content to circulate across the Europe and worldwide.
When I started studying the system, the market and the sector, I immediately realized that I was in front of an epoch-making change and it was my own personal challenge to find a way of making this magic come true: small exhibitors needed to solve the problem of the lack of films on celluloid and the high running costs. In this direction I handled the business planning, which starting out from the single cinema balance sheet, explored the possibilities of a functional and cost effective network solution.
And this is what was achieved. The business planning proceeded and allowed the company to find new partners, to gather the necessary funds and to set up a very involved and enthusiastic technical and management team. Today Microcinema is the practical demonstration that digital cinema is possible and that digital projection is cost effective.
As financial officer I'm sure that digital cinema via satellite needs networking as the first answer to its problems; I'm also sure that digital projection doesn't need over-expensive 2K projectors but needs good content (that means good stories) entirely HD-projected in spaces that are well equipped not only with projection systems but also in terms of screens, seats and audio systems.
As head of network relations for the cinemas, I understand that the real concern of exhibitors is the flexibility of their investments and their premises - the possibility of increasing their catalogue by adding other content that is not strictly feature-film-related, like documentaries, concerts, opera, theatre, distance learning, conventions, stage sharing, screening of own productions."
The challenge of my digital adventure grows with me day by day in two ways: as a woman in a predominantly male sector and as a manager in field that is innovative, difficult, interesting and full of possibilities. I think tomorrow my son will be able to say, "My mom trusted and worked hard for a revolution that today allows me to have this kind of cinema and this kind of content, and this kind of place near my home in which I can learn, dream and spend time with friends."
Brecht van Eyndhoven - DGT online informer No. 25
The Netherlands
Spread the understanding of digital cinema and reap
For some people the term 'digital cinema' can be confusing. But producers, exhibitors and distributors usually share a clear and 'technical' interpretation of the concept. The confusion starts outside of the film sets, theatres and projection booths. Many may think it has something to do with computer generated images, games or the transition from analogical material to any type of digital format that can be viewed via internet.
In my work as a teacher and researcher in digital communication and media studies, I have noticed the confusion about the interpretation of digital cinema in other, often related, sectors. I have come across all sorts of assumptions, in particular in three important domains: media education, digital communication research and local governments dealing with 'digitalisation'. These interpretations - of an obviously very general and 'open' term - are not 'wrong', but what surprises me most is the lack of knowledge on the innovation of digital cinema as the industry understands it. This blind spot of information is not helping the understanding of digital cinema in general, and most of all, the supporting, discussing or further innovation of it.
In my university classes I meet enthusiastic film and media students, knowing all about digital effects, but very little about the revolution of digital cinema. Meanwhile archives stocked with film, video and photo material are looking into the opportunity of digitalisation but don't seem to need or receive information about goings-on in the cinemas. And above all, national and local governments that are keen to get on the 'digital innovation bandwagon' often understand digital cinema as digital film content, to be delivered to users mostly via Adsl, cd roms or dvds, while ignoring the local cinema theatres. Somehow, often in these environments no or very little information about 'digital cinema' - as experts understand it - reaches these keen ears.
Likewise, professionals within the cinema industry often do not have time or see the point in making a connection with the proceedings within the above mentioned sectors - education, archives, local governments.
And if people - from both sides - know something about the other's activity, not many seem to attempt to research the possibilities of fruitful collaborations. Unfortunately, for many people who ought to know, digital cinema seems to be left in the dark theatres.
But why should they know more about digital cinema? And why should a cinema exhibitor care about a small film archive looking into the possibility of digitalising some of its films? Why does a film student need to learn about 2K or 4K film?
The answer is obvious: when people learn about important activities going on outside of their sector they may pick up on collaborations helping to develop interests for all involved. It may result in more possibilities for the supporting and development of digital cinema, getting new talent on board, provide a stronger vote for funding schemes, create inventive partner projects etc. More concretely: a cinema theatre owner mulling over the question of how to pay for the new digital cinema projector may be interested in opening one of its theatres to show 'alternative content', like digitalised film from the nearby archive, or screen other content for big screens. They may invite telecommunication companies to get more use out of the content, bringing in commercial sponsors and/or finance by the local government. It all depends on inventive and creative ideas, strategies and cooperation.
Fortunately there are many people, organisations and institutes that do know about the importance of assembling and providing information about digital cinema from and to various professional worlds. Thanks to the work of organisations like MEDIA Salles, Smpte, Edcf and the spread of information by experts or research and consultancy centres, digital cinema is given the chance to spread and develop, sparking off many other interesting digital innovations in its course.
Mrs. Brecht van Eyndhoven (1971, The Netherlands) is a freelance teacher, researcher and coordinator in film and new media. She has worked for film industry websites, film festivals, production companies and universities. Brecht van Eyndhoven has lived and worked in Amsterdam, Arnhem, Maastricht (NL),and in Dublin (IRL). She currently lives and works in Rome, (I).
Laura Trentinaglia - DGT online informer No. 24
Head of Programming, Furlan Cinecity Group, Italy
I have been working for the Furlan Cinecity Group for 18 years and over this long period of time I have experienced, together with my company, all the transformations that have made it into what it is today - one of the leading Italian groups in the cinema exhibition industry.
In this respect, our investment in digital cinema - which began towards the end of 2004 - is certainly one of the most important and "courageous" turning points, particularly when taking into account the "pioneer" spirit in which the Furlan Group started out on the long path to the new technology, which in practice represents the future of cinema.
At present, in our four Cinecity multiplexes (in Silea, Pradamano, Trieste and in the most recent complex in Limena, opened in December 2005), 11 digital systems exist, allowing us to offer all the films released in digital format in Italy up to now, always with exceptional results in terms of admissions and approval from our audiences, who are now used to the quality of digital, especially for the more "spectacular" products. In addition, at the time of writing we are completing the upgrade of our digital equipment in the Limena Cinecity where, as from 8 June, it will be possible to see "Meet the Robinsons" in the new Disney Digital 3D digital format - for the first time in Italy.
By using a series of devices and optical "illusions", this system makes it possible to add a sense of depth, adding a third dimension to what we are used to seeing on the screen.
In general, 3D vision is obtained by projecting a double image: one for the left eye and one for the right, which, when superimposed, create the sense of depth.
The incredible effect of Disney Digital 3D is ensured by the use of active electronic lenses - comfortable, light and which can be worn over any sort of eyeglasses - that are regulated by remote control thanks to an infra-red transmitter. The latter, placed inside a projection booth, transmits the signal to 2 emitters located at the sides of the screen which, in turn, bounce it back to each single pair of lenses in the theatre.
Unlike what happened in the past, electronic control of the image eliminates faults like "ghost images" (due to the left eye catching a fragment of a frame destined for the right eye and vice-versa), spatial or temporal misalignment of the 2 images and excess eye strain.
I believe that constant investment in digital cinema - however costly - is of vital importance for achieving customer satisfaction and customer loyalty, and that it represents a necessary step towards the Group's prime objective: complete digitalisation of its cinemas, making it possible - in what we trust will be a not too distant future - to propose all films (as well as alternative content) in the only format able to guarantee top performance in terms of quality and economy of management.
Merel Gilsing - DGT online informer No. 23
The Netherlands Film Research Foundation
Secretary General/Researcher
The Netherlands
The NFRF was founded in 1993 as a subsidiary of The Netherlands Cinematographic Federation (producers, distributors and exhibitors). It is the only research institute in The Netherlands that is specialized in research in the film sector. Since 1st January 2004, the NFRF has been an independent organization, associated with Utrecht University. Since February 2004, I have collaborated on projects for the Netherlands Film Fund, The Netherlands Association of Exhibitors and The Netherlands Association of Distributors, amongst others. My most recent project was a national survey on cinema going and the effect of discount actions on this behavior.
As a researcher I am very interested in new developments in European cinema exhibition. In this article I will address some of the recent developments and discussions in the Netherlands on digital cinema. As a recent inventory (1) made clear, The Netherlands so far has been lacking research regarding digital cinema. It seemed the subject had not seriously touched ground. Recently, as in many European countries, new initiatives have been coming up and innovators and early adopters have been looking into the new possibilities. A Dutch Think Tank was founded to facilitate discussion between the different parties in the market and the industry has been pushing to get this subject on the political agenda.
What's interesting in this matter is that one of the first Dutch exhibitors that went digital has recently decided to put its five projectors aside and go back to 100% 35mm projection. Jan van Dommelen of Jogchem's theatres comments: "We bought these projectors to test the technology. The projectors are fine, but we refuse to pay for the hardware all by ourselves, especially since there is a lack of content. We will wait until there is a virtual print fee" (2) . Because of this last downfall, the total number of Dutch digital projectors is at the moment insufficient for distributors to print digital, which is of course worrying for further developments.
In April 2007, the national film industry gathered several times to discuss the status quo of digital in the country and mainly to continue the discussion on who will pay. One initiative by the name of Cinemanet was getting quite a lot of attention. Their aim is to get all film theatres, art-houses and at least 60% of the mainstream cinemas organized in one digital network in a public limited company. Of course, they are not the only party that is offering to facilitate the digital process. The most important issues for Dutch exhibitors and distributors in this matter are not to lose control over the content and to keep the interoperability of the different systems in mind.
Another meeting, organized by the Dutch Organization of Feature Film Producers, concluded that consumers would benefit most from digital, since screening films will become a lot more flexible. The question remains, if this consumer would want to pay 20% more for a digital screening, as in surrounding countries. Research has always shown that the price of the ticket is one of the most important reasons why Dutch people do not go to cinemas or don't go more often. A recent study shows however, that in the last year the price of the ticket has become less of an issue for Dutch audiences. There is a growing appreciation for the superb quality of image and sound in cinemas, mainly by the male audience (3). Hopefully, this recent information will give digitalization in The Netherlands the boost it needs.
1) The Netherlands Film Research Foundation by Floor de Vos, January-March 2007.
2) As stated in Holland Film Nieuws no. 75, April 2007, page 15.
3) Bioscoopmonitor 2006, Market Response, April 2007.
Monica Törnblom - DGT online informer No. 22
Programmer and Head of Bio Kontrast, Folkets Hus och Parker, Sweden
Folkets Hus och Parker (FHP), The National Federation of People's Parks and Community Centres, are unique in the world with the basic idea that everyone should have somewhere to meet, experience culture of different kinds and interact with their community. Within our 692 venues there are 240 cinemas and 245 screens. Most of them are situated in smaller towns and villages with between 200 and 20,000 inhabitants.
In 1999 FHP realised that digital cinema was an important transition and that we had to take action if we wanted our cinemas to survive. For the next two years we gathered information and prepared for a pilot project. In September 2001 we had our first public screening of a commercial film in Smedjebacken, one of seven pilot cinemas. During 2005 and 2006 the first cinemas were accompanied by another 33 of ours and 17 run by other smaller exhibitors thanks to a new lease. Apart from four 2K screens, all are 1.4K. For FHP, digital cinema isn't a pilot project anymore but a daily and very real business.
My work at FHP covers two areas: firstly, programmer and consultant; secondly, Head of Bio Kontrast, which is our nationwide art-house circuit. It's very diversified and rewarding work where the key element is the communication between me and the managers. Since many of them work on a non-profit basis in their spare-time and have autonomy regarding content and program, I have to be very supportive and be able to guide them to the 'right' decisions through all kinds of questions.
For the past six years FHP has tested all types of content in our digital cinemas. Some of them have had little success and some of them have made huge leaps forward. All these experiences are equally important for us and everyone in the business. To mention a few: live events like the studio-concert with David Bowie, the Robbie Williams concert, the New Year's Concert from Vienna (four years in a row), the European Football Championships (in HD), the World Cup (in HD), opera from the Metropolitan in New York (in HD) and all of them via satellite; pre-recorded Broadway Musicals; live local sports events with local commentators; video- and computer games (Playstation, X-box, Wii, LAN parties); live European Song Contest (televised); previews of Swedish TV-series; Viasat Sports channels; interactive conferences by high capacity broadband; digital advertising, both local and national; Swedish documentaries and art-house movies on standard-, HD- and BlueRay-DVD; Swedish blockbusters on generic and non-generic hard drives; Hollywood blockbusters on generic hard drives.
One of our most recent successes was the live opera from the Metropolitan. The screening on March 24 was The Barber of Seville; 17 cinemas had an audience of 2,400 people, with 11 cinemas sold-out. Actually, this is roughly the same amount of ticket sales as Night at the Museum at these cinemas. We also got 10 full pages in the nationwide newspapers over a five-day-period and boundless coverage by local media. Nevertheless the main purpose of these digital houses is feature-film screenings. We have shown that there's a huge part of the market out there for us. If we just could get hold of the digital prints at the premiere. The most recent example is a Swedish film Göta Kanal 2. Thirty of our digital cinemas in the first week alone took 6% of the total admissions. FHP's total market share during 2006 was 3.7%. When 30 out of 245 cinemas can make 6% that's a huge opportunity both for us and the distributors!
This gives us leverage, with an enormous potential to earn money but still there's a lot of outdated thinking and maybe excessive consideration of the Hollywood Studios in Sweden. The DCI specifications are hand-stitched for the US and the large multiplexes. In fact a 2K projector projects a specified amount of pixels in a line irrespective of the screen size, meaning that in order to follow the DCI specs FHP's cinemas have to project a picture almost twice as sharp as the multiplex-screens. This doesn't seem fair, does it? Another consideration is that the 2K projectors are too big for our machine rooms and the projected light is too strong for our small venues. FHP believes in and works for scalability, i.e. smaller screens with smaller projectors show high quality, and should be able to get content. A relaxing of the DCI specs is the only way to prevent the wide-scale disappearance of European cinemas during the Big Roll Out!
Sandrine Remy - DGT online informer No. 17
XDC Area Sales Manager
Belgium
I feel my contributions to international marketing both in the international fashion business and most recently in digital cinema exhibition have benefited from my MA in Economics coupled with the four languages I speak.
Being interested in new technologies and how they would impact on cinema with the advent and the future potential of the D-cinema, I started with XDC in January 2006.
By a long lead, XDC is the leading digital cinema service company in Europe. It offers technical and financial customized solutions to the cinema business and all the necessary related services distributors and exhibitors need to show motion pictures flawlessly and securely.
XDC offers exhibitors a wide range of technical (2K projectors, secure servers and integration components) and financing (rental, leasing or selling) solutions. Moreover, XDC offers full logistical services for distributors, including digital content preparation (encoding and encryption), delivery, and quality control and archiving. At the time of writing, 16 January 2007, over 200 movies have been processed by XDC Content Servicing Laboratory.
I fulfil the role of Area Sales Manager for the Southern and some Northern European countries. I see these markets as very promising because of the quantity and quality of their production. My responsibilities include the business development and sales of our services to the exhibitors. I ensure contacts are followed up, the presentation of the XDC Business Proposal and, most importantly, make sure contracts are signed. Coordination and ensuring that our local integrators comply and carry out their work according to XDC's stringent quality guidelines are also part of my job. Preferred system integration partners are essential. They know the language, the way of working and the local characteristics of their territory. They enable XDC to accelerate the progress of its business approach.
Even in these emancipated times, outside the US and the eastern European countries, women are still underrepresented in technology industries. At the beginning, I have to admit that it was not so easy to prevail in a male dominated area, but the innovative challenge which is digital cinema and my strong personality have enabled me to integrate into this hitherto male sector.
XDC has a very important digital market share in Europe, of the order of 80 to 85%. However, it is necessary to see these figures in an overall context because, even though significant, our almost 300 screens in comparison with the 18,000 screens in the prospective countries are not that many. And because of this, my role is more educational than 'pure business'.
One of our major assets is certainly the quality of our services and the experience our team possesses. We have developed some essential tools to facilitate digital deployment. Probably one of the most important is XDC's Network Operations Centre that allows direct communication with projectionists all over Europe and the remote control of the server and cinema automations systems.
We work every day to make digital cinema a concrete, reliable and advantageous solution for the cinema industry and I help exhibitors make it possible.
Digital cinema is a revolution, but "coming soon" to your screens too...
Petra Pettersson - DGT online informer No. 16
Managing Director of Studio 1 2 3, Porvoo Finland
Deputy member of SEOL ry The Finnish Cinema Exhibitor's Association
Digitalizing Finland from an exhibitor point of view
Writing this article is definitely not one of the easiest tasks that I've had in my time working in the cinema business as an exhibitor. Especially when the title is "Women in Digital" and digital cinema is still an egg not yet hatched in Finland.
Finland is a small country with 5.2 million inhabitants and 221 cinemas with a total of 341 screens. The total number of admissions in 2006 was 6.9 million. Most of the cinemas in Finland are single-screen theatres and work in rural areas. Finnkino is a major market leader with multiplexes in 9 locations.
The Cinema I run is a three-screen theatre with 99/98/78 seats. We operate in a small town in southern Finland with 47.429 inhabitants. We have approximately 50-55,000 admissions annually which is a small number compared to the major cities in Europe, including Helsinki with 2.2 million admissions in 2005. But with 47,583 admissions in 2005 we were the 20th largest cinema in Finland.
To date major digital rollout in Finland has only been a dream - and it will be so for the near future at least. At the moment we have one digital screen in the whole country. This screen started operating in December 2006.
The largest problems are of course the same as in any other place: how can we afford the investment, given the expensive equipment involved? Will there be digital prints available? etc. But we also have the problem of single-screen exhibitors in a large, fragmented area. Will it be worthwhile to invest more than 100,000 euros per screen in a town where there are less than 10,000 admissions annually? It's a huge risk - whoever pays. However it works out, it has to be a way that is equal for all, multiplex or single-screen. Not one that just rewards multiplexes, forgetting about those who offer their territories this wonderful form of culture.
From an exhibitor's point of view, it would be a certain suicide to try to pay for the conversion individually. And as we can't afford the rollout by ourselves, how do we do it? There have been suggestions of local funding (cities, companies), national funding (the Ministry of Education being most mentioned) and of course private funding. The biggest problem in my opinion is that there is not enough material available for those who would like to know more about digitalisation. Why not try to find the best possible solutions and live with it?
I know most of my colleagues think of this as something that might happen in 10-15-20 years, not realizing the speed of conversion throughout the world, not taking it as something that is really on our doorstep already.
At the moment we are investigating the possibilities of different forms of financial help for cinemas of different sizes. As we all know, the investments are huge and at the moment there is not enough experience on the market to tell us how to proceed to make the best choices. Mostly I fear for all the small rural areas where the theatre may be the only one within several miles? Where the movie is shown months after the premiere and you could already buy it or rent it. Where the print is often so scratched that it makes the atmosphere special. Where going to the movies is really an experience, not just a way of spending Saturday night. This might be a bigger threat than the VHS and DVD revolutions were to these locations.
Of course we have alternative content also, but if our major income is from showing films, how can we suddenly change our image and function to being something else? How do we get the permission to show the movie on only a few nights of the week as we have alternative content for our audience on other nights? How do we know that it will work? These are questions that no-one is prepared to answer. And still these are the biggest questions for those who have made their living in this business for years. And especially here: you might be the 2nd or even the 3rd generation running the same cinema - would you like to lose your legacy?
I know it will take time before we reach the point of not receiving any more prints in the way we do now, but still the day might come sooner than we expect. And I would not like to be the one explaining to the customers that we're not able to show the movie as it is only available in digital.
Maybe my article wasn't so much about women in digital, but gives you an insight of the thoughts of facing with the reality of conversion and the problems we face daily dealing with digital cinema.
Rita Stella - DGT online informer No. 15
Cinema Exhibitor
Apollo Spazio Cinema
Milan, Italy
In 2004 I took part in the first "DigiTraining Plus" at Kuurne. Partly as a consequence of this experience, when we started out to restructure the old Apollo cinema (1,200 seats right in the centre of Milan) with my partner Lionello Cerri, in 2004, we aimed to create a place that was technologically in the avant-garde.
Today it is called Apollo Spazio Cinema and has 5 screens, for a total of around 900 seats. The 5 projecting booths are each fitted with 2 traditional Cinemeccanica Victoria 5 projectors and with video projectors. In the Sala Fedra, the Cinemeccanica digital CMC-D2, using Barco technology, has also been installed.
The new, multi-screen complex was inaugurated on 12 March 2005. In our first year we screened 6 films in digital. In 2006, unfortunately, there were far fewer titles available, perhaps because of the big problems over getting servers to conform to the new specifications.
We have noticed that digital still represents an element of novelty and curiosity for audiences, who appreciate the visual quality. For us exhibitors, instead, it constitutes an element in our favour when negotiating with distributors, as well as being simpler to manage than traditional copies on film.
On the other hand we have to say that today, in Italy, putting in a digital 2K projector is definitely an investment mainly in terms of image, since a purely economic short-term analysis cannot yield any interesting results, especially because of the limited number of titles in this format. Certainly there is still a lot of work to be done to define a valid economic model for all parties involved in the market: today the weight of innovation is not fairly distributed amongst all those concerned.
Alléne Hébert - DGT online informer No. 14
Digital Cinema Consulting & Projects
Barcelona, Spain
Digital cinema is an emerging field often compared to a steamroller: slow to start but impossible to avoid! Following somewhat the legacy of television, the silver screen will one day make the transition from analogue to digital. Replacing film - a robust, standardized, century-old technology - is a complex process. With this transition, cinema professionals, distributors, exhibitors and audiences expect a quality level and efficiency that is equal to or surpasses what currently exists.
Since November 2004, I have embarked on an intensive investigation of the entire cinema chain, with a special focus on digital cinema. This project has taken me to various cities and events in Europe and the United States, where I have interviewed and conversed with manufacturers, researchers, associations and cinema professionals from production, through to exhibition.
The conversion from film to digital requires not only robust technological developments and viable business models, but also clear communication from the many sectors involved, as well as transparent education/training. Beyond the above, the concept of digital cinema distribution and exhibition also has clear economic, political and cultural ramifications.
What is the future of digital cinema? How will digital cinema ultimately affect the distribution and exhibition communities around the world? These are enormous questions that have been debated for the last few decades while in parallel new equipment and exciting future possibilities are taking place. This is a time for analysis and participation from all sectors that make up this 'chain'.
Around the world various digital cinema installations are taking place, opening doors for new business models in the postproduction, distribution and exhibition sectors. Digital technologies have revolutionized both production and postproduction, and will have a great impact in cinema distribution and exhibition. Ideally, the emerging business models and technologies should both respect the existing business relationships between distributors and exhibitors that have been set in place for decades as well as foster new possibilities for access to content and programming in theatres.

When new foundations are being created, there are often times when the panorama can be confusing, thus international research and development, associations, networking, sharing of experiences and knowledge becomes of vital importance.
Digital cinema will in the future have a clear international standardization as well as the technology that replicates film's legacy to produce and project stunning images. It is here that international standards organizations such as ITU and SMPTE take on great importance. There is also the great relevance of resolutions - HD, 2K, 4K - as well as colour spaces, compressions, security management, equipment interoperability and life span, international certification, and finally business models that have viability for all kinds of cinemas, both big and small.
Although these issues can seem overwhelming for many in the distribution and exhibition communities, it is crucial that there is feedback and participation for the future; the common goal between all sectors involved in the digital cinema future should be to design systems - technological and economic - that can have the legacy of 35mm film and offer new opportunities for content and quality levels, which directly relate to the true life force of the entire cinema chain, the audience.
With the developments of home cinema, dvds, release date windows, Internet and the continuous offers for leisure, many in the exhibition industry can feel the impact in their cinemas. Once more networks, systems and viable business models are set in place; a possible advantage of digital cinema distribution - whether via physical media, cable or in the future satellite - is the flexibility in accessing content and programming.
Like the dvd, digital cinema packages and exhibition systems can be designed to offer a variety of language and subtitle selections as well as options for the visually and/or hearing impaired.
Digital distribution could offer immense agility for screenings, and definitively opportunities for more cultural exchange of cinema within Europe and around the world.
It is impossible to come to a clear conclusion at this point in time, which for many can be understandably frustrating. We are at a cross roads and the best advice I can humbly give is to continue accumulating information and look to those pioneers around the world who are active in this conversion process.
For those who are interested in the future of digital cinema, I leave you with three 'investigation' areas in which continuous developments, proposals and possible future solutions are taking place:
1. Search for publications and connection to groups that are actively working for education and dissemination about these issues, like MEDIA Salles, UNIC, EDCF, IMAGO, NATO, DCI and many more associations around the world.
2. Attendance, participation or representation in international and national digital cinema events. It is here that manufacturers, associations and standards organizations are also present and available for questions and answers. These events also provide excellent networking opportunities.
3. Look to those who have demonstrated experience in funding and cinema business models. Unlike the United States, Europe currently has many markets, thus making the situation complex. Through time, with continued development and the opening of markets, there will be clearer solutions to this challenge.
This is not an easy transition, but there are many involved this emerging field who are committed to designing the future so that the magic and true power of cinema in theatres will continue.
Fiona Deans - DGT online informer No. 13
Director of Digital Cinema, Arts Alliance Media, UK
I joined Arts Alliance Media (AAM) in September 2002 and am currently Director of Digital Cinema, responsible for the growth and operations of the digital cinema business in the UK and Europe. In particular I head up the rollout and operation of the UK Film Council's Digital Screen Network, Europe's largest 2k digital cinema network.
AAM is Europe's largest digital cinema services provider, with seamless end to end digital cinema solutions encompassing equipment selection and integration, operator training, installation and support, and content management and delivery.
In February 2005, we were selected to rollout the UK Film Council's Digital Screen Network (DSN), a $20m contract. We are responsible for financing the rollout, installing and maintaining the equipment, and training operators. We also offer distributors that use the circuit special rates for content management and duplication services. We finished the rollout of phase 1 of the DSN during February - ahead of schedule! - and have shown over 25 films on the network to date. By Spring 2007, 240 screens will be installed and operating.
This year we have started our expansion into Europe, beginning with Norway's first digital cinema network. 3 screens are installed and operating and we plan to install another 7 screens in the next couple of months, together with our partners in Norway, the Kristiansand D Kino Allianse.
Digital cinema brings together technology and film to transform the world of movie-going. The benefits of improved and consistent quality, alternative revenue streams, print cost savings and the flexibility to truly match supply and demand represent a unique opportunity for the industry. Arts Alliance Media is committed to delivering the best solution possible as we meet the needs of the marketplace, serving the content owners, exhibitors and the cinema goers.
Montserrat Guiu March - DGT online informer No. 12
General Manager of CINEMES GUIU, La Seu D'Urgell, Spain
The concept of digital cinema is a new one that makes more headway every day throughout the media.
With the entry of information technology and electronics into our lives, anything that sounds analogical seems obsolete.
The same is happening in the world of the cinema. Digital cinema is already with us, starting out slowly but impossible to halt.
Now we have to concentrate on how the transition from analogical to digital technology will take place.
It is a slow process that involves the whole cinematographic process from production to post-production to distribution and exhibition.
Concerning the world of exhibition, which is the one that regards me most closely, the change will have a positive effect on several areas:

- First it will lead to the reduction of costs, since a large part of the work carried out by distribution will gradually disappear, as different channels of transport will be used for delivery of films, via satellite or cable.
- Secondly, the various cinemas will be able to bring films out simultaneously, thus generating greater expectation and interest in spectators.
- Thirdly, the quality of sound and vision will increase.
- Fourthly, there will be more opportunities for new authors to show their creative work, thanks to the low cost of launching the product.
- Fifth, a new and as yet unknown path opens up before us for live events, both in music and in sport.

The great problem faced by digital cinema is the high cost of the transition. Who should pay for it? Exhibition? Distribution?
The exhibitor will gain no greater benefits if the film is in digital format rather than 35mm, since the spectator chooses the content of the product and not the format.
No direct benefit corresponds to the high cost of digital, as the exhibitor is already prepared to offer the product, obtaining the same economic return.
For distribution the transformation will bring the costs down radically, so that it would seem to be fair for it to sustain most of the transition costs.
This is the most delicate point since, supposing that distribution should agree to sustain part of the transition costs, it would become a partner of the cinemas and this would reduce the exhibitor's freedom of choice.
The solution should be sought in studying formulas for change that involve both public authorities and distribution and exhibition and that foresee systems of regulations that favour exhibition, which is the link in the chain to suffer most here.
At the moment my theatres are fitted with a Sanyo 1.3K projector for screening movies in an electronic format. In all there are 75 cinemas in Spain equipped with these projectors and connected via satellite, waiting for the opportunity to offer content.
Up to now our practical experience is slight but I hope that all the problems will soon find solutions and that we shall be able to put these projectors to use, thus creating a real circuit.
Laura Fumagalli - DGT online informer No. 6
Marketing Manager of ARCADIA, Melzo, Italy
We have started our "digital adventure" as pioneers in Italy back in the pre-history of digital cinema, i. e. in 2001. We had equipped one of our screens, "Fire Theatre", with the digital technology available on the market at that time, i.e. the first-generation 1.3K DLP Cinema™ projectors and a server that was initially a QuBit. Over the following years we have always paid close attention to the evolution of the equipment and gradually adopted all the technology that allowed us to make additional improvements to the presentation system.
At present we have three digital screens inside the ARCADIA complex: Fire Theatre, Air Theatre and our biggest auditorium called Energy. All three theatres are fitted with 2K digital projectors, DLP Cinema™ technology and Avica, Dolby and QuVis servers.
For around 5 years the ARCADIA was the only Italian cinema equipped for digital screening and the great difficulty was to obtain movies in this format from the distributors. For this reason we decided that the best strategy was to convince other fellow exhibitors to equip their own theatres, so that the demand for digital copies would provoke a rapid response from distribution. And this is what happened: since early 2005 our first two fellow exhibitors - Furlan and Giometti - have joined ARCADIA and equipped their theatres.
And so, since 2005, with the release of Shark Tale and Constantine, a host of requests to make digital copies available has brought a prompt response from distributors. Nonetheless, despite some relief, the problem has not yet been completely solved, since not all films distributed in digital format on the international market succeed in gaining digital distribution in Italy, too. Particularly at present, in a phase of transition from the compression system currently used to that indicated by the DCI specifications, great difficulty is still found in obtaining titles in digital format.
In the future we shall continue to pay attention to the progress made in digital technology and, together with our fellow exhibitors, we will make sure that in Italy a wider variety of titles are distributed in digital. In the future, we shall go on following this path and, step by step, deal with all the issues that up to now, in an experimental phase like the one we are experiencing at present, have not yet been solved.
(Click to see the cinema website)