The fifth edition of the training course "DigiTraining Plus: European Cinemas Experiencing New Technologies" begins on 9 April.
A message to European exhibitors from Mads Egmont Christensen, course moderator.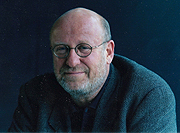 It has been a great pleasure for me to moderate the four previous DigiTraining Plus events, which thanks to the hospitality of Barco took place at their high-quality production plant in Belgium.
This obviously provided the course organisers, as well as those attending the course, with a constant state-of-the-art overview of the technical aspects related to Digital Cinema, thus securing the bases for understanding and discussing the practical changes that European exhibitors are facing within their fields of business.
But over the years - and this seems even more important to me - MEDIA Salles have also managed to bring together an extensive number of central key players within the field of the content of Digital Cinema, i.e. experts, practitioners and artists whose input and reflections have proven to be extremely valuable for the cinema-owners, distributors and representatives from exhibitors' organizations from all over Europe who have attended the courses. In the light of this approach the decision to move the DigiTraining Plus workshop to the UK, where – thanks to the initiative of the UK Film Council - the impact of the most extensive and organized deployment of digital screens in Europe can now be more closely monitored and evaluated, seems like a natural step forward in terms of practical training.
Add to this the always lively and highly insightful debate among speakers and participants both within the realm of the professional presentations and in the friendly atmosphere of the social activities over the five-day intensive schedule, and I do not hesitate to state that participating in the DigiTraining Plus course is a must for any decision-maker working in distribution and exhibition, who wants to be in control of the digital roll-out instead of being run over by it!
Mads Egmont Christensen
Course Moderator